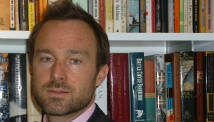 Editor's Note: Sam Chaltain  is a DC-based writer and education advocate. He can be found on Twitter at @samchaltain. 
By Sam Chaltain, Special to CNN
This week, many parents and guardians of students across the country will receive their first report cards of the 2011-2012 school year. For some, the occasion will provide welcome confirmation of a young person's superior effort. Others will open their mail to find an uncomfortable wake up call. Yet for too many families, the report cards will offer little more than confusion – about how their child is actually behaving, what he or she has actually learned, and whether any meaningful progress has actually been made. "I have a master's degree in education," said Devon Bartlett, a parent whose children are in first and fourth grade, "and even I can't make sense of what my child's report card is trying to tell me. Clearly, we can do better."
Given how uninformed so many parents feel, and considering how differently the nation's 100,000 plus schools choose to track student growth, is it time to give the school report card an extreme makeover, and dress it up for the 21st century?
Zakiya Reid, principal of Bancroft Elementary School in Washington, D.C., certainly thinks so – although she's mandated to use the same report card as all other D.C. public schools. "We're doing a lot better here than we were before," she offered, "and all of our feedback is presented in terms of the primary standards we want the children to reach. At the same time, we're still learning as a community of educators how to do standards-based grading, so I know the way we present information on the new report card is not clear to all of our teachers. And if it isn't clear to the teachers, it's safe to say it isn't going to be clear to our students and parents. So we still have some important work to do."

A few miles away, at a first-year DC charter school called Mundo Verde, principal Dahlia Aguilar has a different problem: designing her school's inaugural report card from scratch. "The challenge is finding the right balance of information without overwhelming parents," she mused, while a five-year-old boy in her office built an intricate Lego castle at her feet. "But the joy of our situation is realizing we can rethink all of the things about report cards I'd always thought were set in stone – like including single letter grades and excluding multiple examples of actual student work. It's a lot of work the first time through, but we're loving the challenge."
Recently, a lot of other people besides Dahlia – and both within and without K-12 education circles – accepted the same challenge courtesy of GOOD Magazine's Redesign the Report Card  competition. "We wanted to challenge our readers to be visually appealing, informative and inspirational, and to give the right amount of context to student learning," explains GOOD's education editor, Liz Dwyer.
The contest's winner, Polly D'Avignon, designed a report card she called Education Engaged. "One vital aspect of student educational success is an active, engaged, and enthused relationship between students, parents, and teachers," she explained. "So I envisioned an online, interactive report card that utilizes social media and data visualization to encourage students and parents to interact with educators in a dynamic, comfortable environment. A simple number or letter grade once every quarter or six weeks doesn't sufficiently equip parents to play an active role in their children's education." (See Polly's design for yourself here.)
As it turns out, Polly's instinctive feel for design is reinforced by some of the leading research in the field. As Educational Leadership editor Marge Scherer explains in a recent issue dedicated to exploring grades in depth, "Before a school attempts to make changes to report cards, it must consider the purposes that the grades will serve." In other words, is a grade meant to reflect what students learn, what they earn, or both? And is there any consistency across classrooms, or are teachers essentially deciding for themselves what their grades are meant to reflect?
Veteran New Hampshire educator Kim Carter, whose Q.E.D. Foundation helps schools nationwide design more effective assessment systems, has been wrestling with these questions for a long time. "Although almost all of us grew up in schools that relied on the single-letter-grade-style of reporting, we've known for decades that one letter tells you virtually nothing about what has actually been learned over any period of time, be it one week, one school quarter or one school year.
"In the best schools of today – and, hopefully, in all of our schools of the future – student assessment of, for, and as learning should be the main course of teaching, instead of the afterthought. It needs to take center stage in the process of what it means to guide any individual along a path of growth, and replace the antiquated definition of teaching as merely the filling up of empty vessels.
"We know a lot more than we used to about how people learn," Carter concluded. "Isn't it time we ensured that every school, and every school report card, reflected that wisdom, and figured out how to effectively communicate it to students and parents?"