by Steve Perry, CNN Contributor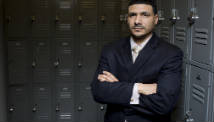 Editor's note: CNN Education Contributor Steve Perry  is the founder of Capital Preparatory Magnet School and author of  "Push Has Come to Shove" in which he describes what steps need to be taken to ensure that all American schools, whether urban or suburban, deliver a first-rate education to kids.
President Barack Obama has buckled like a bad knee on No Child Left Behind.  When leadership was called for, Obama predictably hid behind the Democratic pillars of organized labor, where he settled for political expedience over education reform.  Providing states with waivers from the accountability that testing brings will not improve teaching and learning in America's public schools.
No Child Left Behind is the boldest public education policy of our generation.  It's exactly what I expected to be the hallmark of the presidency of Barack Obama.  Obama ran and was elected on the notion of hope that change would bring.  Implicit in this is that the status quo will not be tolerated. His move to offer waivers to states is a move backward to a time when all a school needed to do to be considered good was to educate the majority of students - a time in which millions of children were left behind.
At its core, NCLB requires schools to prove that all children - regardless of race, economics or perceived limitations - are learning, in order to continue to receive federal money.  The crafters of NCLB believed that these measurements should be standardized and selected by the states themselves.  Where it's proven that kids aren't learning, those children must be offered the opportunity to attend schools where children are learning.
The ESEA Flexibility Request Form states schools which have failed to meet goals for adequate yearly progress, or AYP may continue to receive federal Title I funds, whereas George W. Bush's NCLB would have threatened to take funds away.  Under Bush, NCLB money went to schools with at least 40% of the children living in poverty or schools in need of improvement.  Obama's flexibility measures will allow states to request these scarce funds for any school they wish.  To continue the bloodletting of NCLB, the president will allow states to take money set aside to "reward Title I schools that significantly closed the achievement gap," or "exceeded AYP," and use it to  reward any of the state's schools.
FULL POST