by Steve Perry, CNN Contributor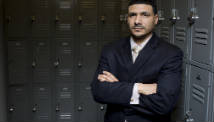 Editor's note: CNN Education Contributor Steve Perry  is the founder of Capital Preparatory Magnet School and author of  "Push Has Come to Shove" in which he describes what steps need to be taken to ensure that all American schools, whether urban or suburban, deliver a first-rate education to kids.
President Barack Obama has buckled like a bad knee on No Child Left Behind.  When leadership was called for, Obama predictably hid behind the Democratic pillars of organized labor, where he settled for political expedience over education reform.  Providing states with waivers from the accountability that testing brings will not improve teaching and learning in America's public schools.
No Child Left Behind is the boldest public education policy of our generation.  It's exactly what I expected to be the hallmark of the presidency of Barack Obama.  Obama ran and was elected on the notion of hope that change would bring.  Implicit in this is that the status quo will not be tolerated. His move to offer waivers to states is a move backward to a time when all a school needed to do to be considered good was to educate the majority of students - a time in which millions of children were left behind.
At its core, NCLB requires schools to prove that all children - regardless of race, economics or perceived limitations - are learning, in order to continue to receive federal money.  The crafters of NCLB believed that these measurements should be standardized and selected by the states themselves.  Where it's proven that kids aren't learning, those children must be offered the opportunity to attend schools where children are learning.
The ESEA Flexibility Request Form states schools which have failed to meet goals for adequate yearly progress, or AYP may continue to receive federal Title I funds, whereas George W. Bush's NCLB would have threatened to take funds away.  Under Bush, NCLB money went to schools with at least 40% of the children living in poverty or schools in need of improvement.  Obama's flexibility measures will allow states to request these scarce funds for any school they wish.  To continue the bloodletting of NCLB, the president will allow states to take money set aside to "reward Title I schools that significantly closed the achievement gap," or "exceeded AYP," and use it to  reward any of the state's schools.

Since his election, I've accepted most of Obama's decisions as thoughtful responses to the worst options of any modern president.  I support the bailout and have no problem with "Obamacare."  I also know these wars and the crumbling world economies are not his fault.  Race to the Top is a solid policy.  Sure, it's unfundable, given the fact that we have the worst deficit in history, but the thought behind RTTP – competitive grants – is awesome.
The president's rewrite of NCLB starts by gutting the centerpiece through the allowance of waivers.  To be clear, Capital Prep, the school I started and am principal of, could fall short of the NCLB standard 100% proficiency for all students in all subjects by 2014.  Our proficiency rates have ranged from as low as 60% in science to as high as 97% and 100% in reading and writing, respectively.  I should be among the first to welcome his overhaul of NCLB, because these measures will save my job. But NCLB should be refined, not dismantled.  The biggest issue is with the fundamental premise it maintains.  NCLB is clear in that it expects that all children in all schools that receive Title I money will get the same education as measured by standardized measures established by the states. The waivers are rooted in the notion that levels of learning are different for different groups.  During a 2004 speech in Florida, Bush referred to differences in expectations as the "soft bigotry of low expectations."
Obama's executive order presumes that there are inherent and unsolvable differences in children and therefore teachers who are teaching the least among them must be let off the hook or 'waived' from the responsibility of ensuring that all children are afforded the same education as evidenced by standardized tests.
Look, my sons still want to play-date with the Obama daughters, and my wife still wants to know who does his wife's hair, so I have no business questioning the president.  I very badly want be on his side, yet I am dumbfounded as to how Obama has let the GOP upstage him on education.  Instead of leading public educators out of the doldrums of habitual failure, the president followed them into an educational past where ZIP code, more than any other factor, determines the trajectory of a child's life.
Does NCLB need to be tweaked? Of course. The legislation's almost blind ambition doesn't allow for the nuances of an effective school to be measured, like daily attendance rates.  Good schools have children who want to go to them.  Bad schools have kids who do not.  A symptom of a failed school is low daily attendance. NCLB only takes into account attendance on the day of the test – not at other times.
Adjust the testing cycle. Right now, most schools suspend all instruction for at least one month to administer the battery of state exams. With an already chopped up school year, stopping instruction to take tests is flat out ridiculous. A new testing cycle could offer smaller versions of these tests every two to four weeks. This would allow instruction to continue and, more importantly, provide teachers with data they can use to inform instruction during the school year. The current testing cycle doesn't get the results until July. What can we do with 10th-grade scores in July when the kid will be in the 11th grade in September?
Sure, we can discuss the timeline of 100% of all children proficient in all subjects by 2014. Thirteen years – from 2001 to 2014 - is more than reasonable. An entire generation to fix schools is too long, and now the president is going to extend it? Brilliant, just brilliant. Here's a timeline tweak: Take as long as you want to fix the school you work in, but the American people are only going to send our hundreds of millions of dollars to good schools. So holla when you feel you're ready, while you do your "educational reforming" - we're going to make sure our kids go to good schools tomorrow.
Finally, tweaking NCLB would look like establishing new standards for assessing overall school performance.  This would keep standardized measures, but it would also consider other factors. They might borrow an idea from U.S. News and World Report, which produces an annual list of the best high schools, taking into account various factors.
If that doesn't work, then the president can simply use the checklist that he and Mrs. Obama used to select their daughters' schools. If it's good enough for the Obamas, then that school is good enough for me.
NCLB took accountability from debate to law.  President Obama needs to build upon this.
The opinions expressed in this commentary are solely those of Steve Perry.