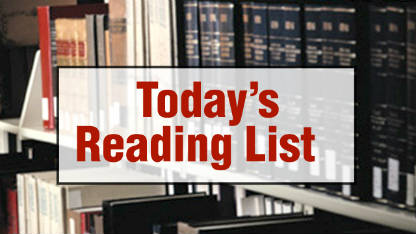 Here's what the editors of Schools of Thought are reading today:
azcentral.com: Arizona online schools: Merits of online learning are unclear
Online education proponents say research shows that online learning is modestly better than face-to-face instruction. Others say there's not enough research to develop a valid conclusion about the benefits of online instruction.
The Kansas City Star: Joe Robertson | Games are focus of Quest schools
At the Quest schools in Chicago, every lesson is a game. But will questing for knowledge result in improvement on high-stakes tests?
The Palm Beach Post: For undercover officer in high school, bad grades were good
An undercover officer of "Operation D-­Minus" passed himself off as a high school student. When he intentionally let his grades slip to raise his "street cred", his teachers called his "parents" and offered tutoring.
AJC: Southeast boarding schools drawing more students
Across America, private boarding schools are seeing slight increases in enrollment, while parents in the Southeast have sent 8% more students away to school since 2010.
Slate: Isolated Incident?
A teacher seeks answers to a dilemma: When a parent takes discipline too far just once, should that incident be reported to authorities?