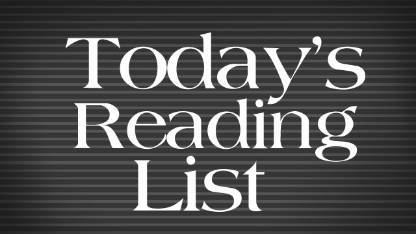 Here's what the editors of Schools of Thought are reading today:
Richmond Times-Dispatch: Governor's budget includes $438 million for K-12 education
Virginia Gov. Bob McDonnell unveiled a 2013-14 budget that includes an additional $2.2 billion for state employee and teacher pensions as well as covering the cost of taking the PSAT for 10th graders.
(Pittsburgh) Postgazette.com: City teachers offered buyouts
The Pittsburgh Public Schools board has approved a plan that would offer buyouts to eligible teachers, but hundreds of layoffs are still expected next year.
EducationNews.org: Math reform hits North Carolina's Triangle schools
Traditional algebra and geometry may be subjects of the past as Triangle schools adopt courses aligned to the Common Core standards.
Education Week:  Devices, devices, devices
Along with cost and capabilities, look at culture and community when weighing your school's technology options.
Elearnspace: A few thoughts on China and education
Blogger George Siemens shares his thoughts on what he learned from a recent trip to China.