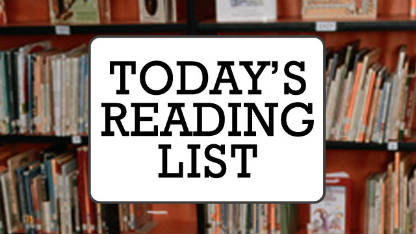 Here's what the editors of Schools of Thought are reading today:
CTNow.com: State's Largest Teacher Union Calls for Tenure Reform, Universal Preschool, All-Day Kindergarten
The Connecticut Education Association, which represents more than 43,000 teachers, has recommended streamlining the state's teacher tenure and dismissal systems.
SFGate: Fewer California schools have trained librarians
Due to budget cuts, less than 25% of California's public schools have a full-time librarian. Some argue that trained librarians are needed to teach students research skills, while others say that technology has made the position less important.
New York Times: Local Options Help Slow Africa's Brain Drain
Africa's growing middle class used to look overseas for higher education opportunities. Many of those students never returned to the continent after graduation. New universities from Shanghai to Pittsburgh are partnering with African governments to offer local options in an attempt to reverse that trend.
The Miami Herald: In Miami-Dade district, two lawyers who teach high school
Miami-Dade's school system offers high school programs in law enforcement, criminal justice and the legal system. Some of the the courses are taught by lawyers who left the courtroom for the classroom.
TBO.com: Westchase Elementary family copes with loss of special teacher
Kindergarden students in Susan Mikolajczyk's class spent their first day back from winter break dealing with their beloved teacher's passing.