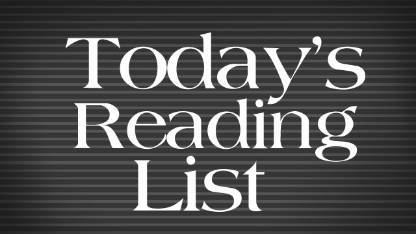 Here's what the editors of Schools of Thought are reading today:
Huffington Post: Walter Dean Myers Appointed New National Ambassador For Young Readers
The U.S. Library of Congress selected Walter Dean Myers as its third National Ambassador for Young People's Literature. Myers is known for young adult literature with themes that include murder and war.
NYDailyNews.com: Against Walter Dean Myers and the dumbing down of literature: 'Those kids' can read Homer
One of Myers' critics says that while Myers intended goal is to make urban kids think, his books don't allow them to think deeply enough.
Los Angeles Times: Students sample the large shelf of California literature
California's movie industry may be better known, but a slew of courses are introducing college students to the state's literary offerings.
Cleveland.com: Literacy today means more than reading, writing and a high school diploma, report says
A report about one Ohio county shows that not enough students are becoming fluent in the skills that modern jobs require, and the region's economy is taking a hit as a result.
New York Times: Teachers Resist High-Tech Push in Idaho Schools
Idaho's legislature passed a law requiring high school students to take take some of their classes virtually. Some teachers argue the technology mandate won't increase learning, and that students perform better when there is a teacher by their side.