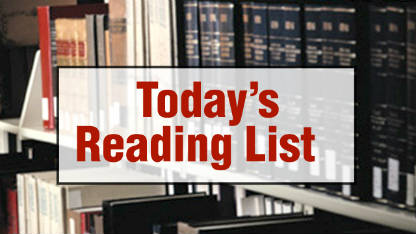 Here's what the editors of Schools of Thought are reading today:
New York Times: Big Study Links Good Teachers to Lasting Gain
A new study that tracked millions of students over a 20 year period suggests that effective elementary and middle school teachers have a positive impact on students' lives overall. The researchers argue that school districts should remove teachers who perform poorly on value added ratings. Critics argue that these types of assessments may have a high margin of error.
Los Angeles Times: California Dream Act foes' petition drive falls short
California's DREAM Act, signed into law by Gov. Jerry Brown last year, allows undocumented students to pursue financial aid to attend California's public colleges. Critics of the law failed to obtain the 500,000 signatures needed that would create a referendum on the law.
Huffington Post: Texas Students Caught Cheating: Hundreds Affected At 'Exemplary' High School
More than 200 seniors at a Texas high school received answers to a final exam before the test was administered. All of the students are being given the option to retake the exam or have its scores omitted from their grades. Students who cheated will be given a zero and may face disciplinary action.
AJC.com: Norcross parents upset by slavery in school math worksheet
Some metro Atlanta parents complained when third-grade students were given math problems that referred to slaves picking fruit and being beaten.
Gazette.com:Students with swords fight way to dream
Most schools attending the National Performing Arts Festival at Disney World next month are expected to put on Disney musicals. A Colorado drama school plans to bring a 20-minute version of Shakespeare's Romeo and Juliet, complete with sword fights, balcony scenes, and dancing.