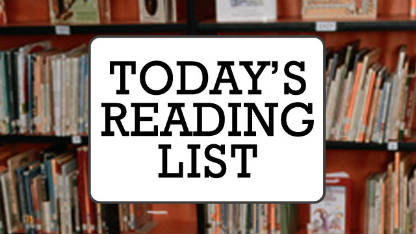 Here's what the editors of Schools of Thought are reading today:
CBSPhilly.com: West Philadelphia Catholic Students Rally: 'Keep Our School Open'
The Archdiocese of Philadelphia plans to close 44 elementary schools and four high schools. More than 300 students rallied in support of keeping West Philadelphia Catholic High open in what they say is the first of many protests against the proposed closure.
JSOnline: Teacher training could be the key to reading achievement in Wisconsin schools
In 1998, only about 40% of Massachusetts teachers passed the state's licensure exam. Teacher training efforts were credited with raising the pass rate to 90%. A Wisconsin task force proposes that that state's teachers be required to pass the Massachusetts Test for Education Licensure exams as well.
Minneapolis Star Tribune: Hockey check hospitalizes another teen
Two Minnesota teens suffer devastating hits from behind during hockey matches several weeks apart. One student may never walk again. These incidents are putting the spotlight on the risks of competing in the state's popular high school hockey leagues, and even coaches are asking for changes to reduce the risks.
Orlando Sentinel:Trained dog helps special ed students adapt to gym class
"Mr. Newton" is Orange County Public Schools' only four-footed gym teacher. Other teachers say the Golden Retriever/Yellow Labrador mix is helping to motivate special needs elementary school students.