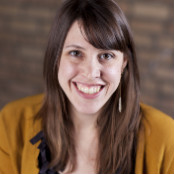 By Cassie Meyer, Special to CNN
Editor's Note:  Cassie Meyer is director of content and oversees training and curriculum development at Interfaith Youth Core. She has a master's degree from the University of Chicago Divinity School.
(CNN) - As we lead up to the 83rd anniversary of the Rev. Martin Luther King Jr.'s birth next week, the organization that I work for, the Interfaith Youth Core , will be at Emory University for our January Interfaith Leadership Institute. More than 160 students, faculty and staff members from colleges and universities across the country will gather in King's hometown to tackle questions of what it means to engage religious diversity constructively when so much of our public discourse about religion is fraught with ignorance, misunderstanding and outright bigotry.
At Interfaith Youth Core, our mission is to make interfaith cooperation a social norm; we have always seen King not only as a key architect of the Civil Rights Movement but as what we call an "interfaith leader" for his ability to mobilize people of different religious and non-religious identities toward a common end. At the institute, we'll ask how students and their allies from across the country can build on this facet of King's legacy, making interfaith cooperation a reality on their campuses.
According to Harvard professor Diana Eck, America is the most religiously diverse country in the world and the most religiously devout nation in the West. Given the fractured nature of religious discourse in our country, institutions of higher education are uniquely positioned to equip a new generation of leaders with the skills to constructively engage our religious diversity. Campuses have played a proactive and holistic role in engaging social issues such as multiculturalism; gay, lesbian and transgender issues; and gender equality, which has led to shifts in attitudes and behaviors beyond campus. This is not by chance. Broadly speaking, higher education is about preparing students for global citizenship, contributing to the common good and strengthening social cohesion.  If colleges and universities – with leadership from students, faculty, staff members and administrators – engage religious diversity with the same ambition and resources they dedicate to other identity and diversity issues, there is an opportunity for lasting impact beyond the sphere of higher education in the broader culture.
Further, college students have played a crucial leadership role in many of the social change movements. As a student training to be a Christian leader, King found himself surprised by the way Mahatma Gandhi, a Hindu, used the Christian gospels as a ground for nonviolent resistance. King went on to collaborate with leaders of diverse backgrounds, including Rabbi Abraham Joshua Heschel and Buddhist leader Thich Nat Hahn. More broadly, students across the country were instrumental to the civil rights movement through the organizing power of the Student Nonviolent Coordinating Committee.
Throughout the institute, faculty and staff members will think about how campuses can be models of interfaith cooperation. Networking with their peers from across the country, they'll consider what it looks like for a campus to make interfaith cooperation an institutional priority. They'll look at how their campuses create opportunities for positive interactions between students of diverse religious and non-religious identities, how this is reflected in their institutions' mission and vision and reinforced in curriculum.  We'll train students to be organizers and movement builders, asking them how they can mobilize their fellow students of diverse religious and non-religious identities around service and action through our nationwide Better Together campaign.
In our opening training session at the Interfaith Leadership Institute, called "The Power of Interfaith Cooperation," we'll ask students and their allies to reflect on why interfaith cooperation matters personally to them and imagine how their campuses might play a role in shaping how the broader culture responds to the challenges of religious diversity. Often, the students we work with will struggle to articulate why these personal moments are the makings of a movement, what they can possibly say to the pressing reality of religious misunderstanding and conflict they see when they turn on the news.
Here's where King comes in, that young seminary student with a revelation from a Hindu. In understanding the civil rights movement as a movement where interfaith cooperation was a key strategy for creating real social change, students begin to see that the work they are doing has the potential to change not just their lives but also the patterns of how religious and non-religious people interact. They begin to see that what they're doing might indeed be building what King called the "beloved community" and that their work on their campuses and in their local communities just may spill over to impact the world beyond. They realize that although the work they're doing on their campus may be small, they're working in partnership with students on campuses across the country. They begin to see King not just as the hallowed leader but as a student, like them, who took action because he saw how his values could be enriched by appreciating the values of others.
The opinions expressed in this commentary are solely those of Cassie Meyer.