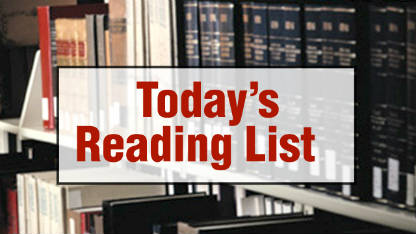 Here's what the editors of Schools of Thought are reading today:
Azcentral.com: Arizona shifts focus to holding charter schools accountable
The Arizona State Board for Charter Schools has put 27 charter schools on notice: improve academic performance by next year or be shut down. The board says it will encourage the expansion of successful charter organizations, while making it harder for failing schools to renew contracts.
Courant.com: For Students Facing Long School Day, Supper Is Served
Some Connecticut schools are using funds from the Healthy, Hunger-Free Kids Act of 2010 to offer dinner. The schools are encouraging students to participate in a longer school day that includes tutorials and after-school programs.
Miami Herald: Opinion – On education, money counts
Florida ranked 39th among U.S. states in revenue spent per student, and that's before the state cut $1.35 billion from the education budget. Myriam Marquez argues that while the state's curriculum standards and exams are top-notch, inadequate funding will have a negative impact on academics.
Huffington Post: 'My Teacher Is a Lesbian': Coming Out at School
Teacher Jody Sokolower revealed to her middle class students that she is a lesbian mother. She describes the reaction from the students, the school administration, and her colleagues, and gives advice to other teachers who may be contemplating coming out in the classroom.
Al.com: Liberty Middle School students' video creating buzz across the web (with video)
An Alabama middle school produced a video that celebrates differences and is intended to address bullying in school.