by John Martin, CNN
I touch the future. I teach. - Christa McAuliffe 
Twenty-six years ago this Saturday, I was home from school. I remember that because I watched as the Space Shuttle Challenger launched a New Hampshire high school teacher and six NASA astronauts into the sky. Their flight only lasted 73 seconds  and ended in tragedy, but McAuliffe's legacy as a pioneer and a teacher endures. This Saturday, the 26th anniversary of that fateful flight, is designated Christa McAuliffe Day in her honor.
In August of 1984 President Ronald Reagan announced that a teacher would be the first civilian in space. McAuliffe was one of 11,000 applicants to the Teacher in Space program. She wasn't a science teacher; her field was social studies.  On her application she said, "I watched the space program being born, and I would like to participate." In July of 1985, Vice President George H.W. Bush announced McAuliffe's selection as the first teacher in space. Before the launch on a frigid January day, McAuliffe remarked, "Imagine a history teacher making history."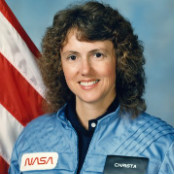 During the Challenger mission, McAuliffe was scheduled to perform a number of experiments and lessons for the classroom. The Public Broadcasting System planned to televise two of her lessons. Her first lesson, "The Ultimate Field Trip" would have featured a tour of the shuttle, while her second lesson, "Where We've Been, Where We're Going," was meant to demonstrate the impact of the space program on technology.

McAuliffe also planned to conduct science lessons in microgravity, demonstrating magnetism, physics and hydroponics – growing plants without soil.   She would also be responsible for performing three student experiments during the mission: examining chicken embryo growth, researching a titanium alloy, and observing crystal growth.
As a former science teacher myself, I lament that these lessons were never shared with the world. The images that should have been etched in my mind, and the ones that I would have eventually shared with my students, were those of a teacher performing science experiments in space. These memories were replaced by the sudden and catastrophic fireball when Challenger and her crew perished.
McAuliffe didn't live during this Internet age, but search for her name on the Web and you will find not just her story, but also ways in which institutions all across the country have memorialized her. There are education awards and scholarships given in her honor. Public schools and science centers are named for her, as well as an asteroid, and craters on the moon and on Venus.
A year after the tragedy, the Challenger crew's family members founded the Challenger Center , which funds interactive space science education centers in dozens of states and the United Kingdom and Canada.
In 2004, McAuliffe and the entire Challenger crew were posthumously awarded the Congressional Space Medal of Honor, the highest American award for spaceflight achievement.
Teacher Barbara Morgan trained alongside McAuliffe in the Teacher in Space program; she was to be McAuliffe's backup. Morgan wasn't launched  in the Discovery mission that followed Challenger. For a while she continued her duties with the Teacher in Space program from earth, and then continued her teaching career. In 1998, Morgan became NASA's first Educator Astronaut, which required two years of training. On August 8, 2007, aboard Space Shuttle Endeavour, Morgan finished the promise of McAuliffe's mission, a teacher traveling in space.