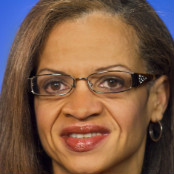 by Sara Ferguson, Special to CNN
Editor's Note: Sara Ferguson is a 20 year employee of the Chester Upland School District where she currently teaches Literacy and Math. She is a third generation educator in Chester Upland. She holds a Bachelor of Arts in Psychology from Widener University, a Masters of Education in Elementary Education from Cheyney University of Pennsylvania and a Masters of Education in Educational Leadership from Cabrini College.
When I visited the White House for the first time, as a child, it was my teacher who brought me there. This week I returned, as a teacher and as a special guest of President Obama during his State of the Union Address. It was an honor to be in attendance, and I am grateful for the attention my struggling school district has received. However, if there's one message I hope is heard across the country about the financial crisis in my school district, it is this: It's a crisis that never should have happened.
Let's back up for a moment. We have long had financial troubles in Chester Upland School District in Pennsylvania. The majority of students here come from families living at or below the poverty level. More than 70 percent of our students are eligible for free or reduced-price lunches, which is more than double the state average.

In January, though, things went from bad to worse. Pennsylvania's Governor Tom Corbett cut $860 million in state funding, which meant a 14.4% drop in funds for Chester Upland. Cuts like these disproportionately hurt school districts that are already financially distressed. On top of that, state funding was cut most dramatically in the districts that needed it most.
We then learned that our school district did not have enough money to make payroll. The 204 teachers and 64 support staff in Chester Upland were told we might not receive our paychecks.
This was a crisis for our community, because our students need teachers. It was also a crisis for all of us teachers and support staff personally, because we need to provide for our own families.
With the leadership of our the Chester Upland Education Association, though, we came together and made a decision. We had a responsibility to provide our students with the education they deserve. We decided to keep working as long as we could make ends meet.
I'm proud of my colleagues in Chester Upland, because I know that not every profession would respond the same way. Once you get into school and you get into the classrooms and see those children, though, you aren't thinking about money. It's not dollars and cents.
Many people have taken a positive message from this crisis, as the country has seen how our community pulled together in defense of our schools, holding candlelight vigils, and how our union worked with lawmakers until emergency measures were taken.
The most important message that needs to be heard, though, is that the financial crisis in Chester Upland School District was no anomaly. It could happen to you.
At the root of the problem in my district and in yours is an inequitable system of funding public education. As I write this, politicians across the country are trying to balance their budgets on the backs of students. They are making excuses for not giving students and teachers the tools they need to be successful. Meanwhile, too many of our school districts are nearing a fiscal crisis which threatens their students' academic future.
We need to turn these misplaced priorities on their head. Education must be at the top of our list, not the bottom. Our students have a legal right to a quality public education, and we have a moral and legal responsibility to provide it for them.
To get our country back on track we need to invest in education. I was proud to hear that message from President Obama at his State of the Union Address, and to know that he understands why teachers and support staff devote our lives to our students. We need more politicians to speak up and say the same thing.
We need to pressure our lawmakers to make the right decisions, tackle the big issues, and rebuild an economy that works for everyone, not just for some. We need to ensure equity in education funding, so that all students can reach their full potential – not just the ones lucky enough to be born into a wealthy zip code.
I know that the economy and job security are on all our minds, but we cannot lose sight of the big picture. In addition to teaching future generations to think critically and be leaders in our democracy, public schools also prepare them with 21st century skills so that they can compete in a global economy. If lawmakers shirk this responsibility, the economic future of this country will be bleak.
The opinions expressed in this commentary are solely those of Sara Ferguson.