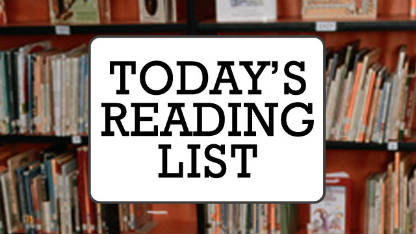 Here's what the editors of Schools of Thought are reading today:
Los Angeles Times: Op-Ed – An L.A. teacher reviews her review
When Los Angeles teacher Coleen Bondy opened her evaluation, she found that the district considers her a below average teacher. Bondy argues that her evaluation was unfair because it only measured the outcomes from her least motivated students. She also believes that test scores by themselves are a poor method of evaluating teachers.
MySA.com: Textbooks tied to tests
The Texas State Board of Education ruled that annual standardized tests won't be rewritten until state lawmakers provide funding for districts to buy new textbooks. The board said a disconnect between information found in textbooks and testing materials based on the new curriculum wouldn't be fair to students.
KCTV 5 News: Student develops free tutoring program to those in need
A Kansas City college student quit his job as a tutor to start a non-profit that offers free tutoring to high school students.
CBS Baltimore.com: Baltimore Co. Parents Offer To Pay For School's Air Conditioning; Officials Say No
Some Baltimore County parents are concerned that their children will suffer when hot weather comes back this spring, so they offered to pay for air conditioning window units. The school district turned down the offer, and requested $70 million from Maryland instead.
Click on Detroit: West Bloomfield Schools closed due to vandalism
A Michigan school district canceled the first day of the second semester after vandals put 15 buses out of commission.