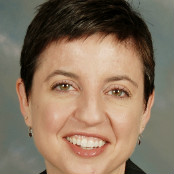 by Kathleen Fitzpatrick, Special to CNN
Editor's Note: Kathleen Fitzpatrick is director of scholarly communication at the Modern Language Association.  She is the author of "Planned Obsolescence: Publishing, Technology, and the Future of the Academy" and author of the blog Planned Obsolescence.
"U kno wat i mean?"
You might think that text messaging with a young person today would be enough to make an English professor scream - and particularly an English professor who now works for the Modern Language Association, that keeper of the rules of English style. The kids today can't write, you've surely heard it said, and new technologies are to blame.
I've got nearly 20 years of experience in the classroom, though, and I'm the director of scholarly communication at the Modern Language Association, and I don't agree with that popular wisdom for two reasons. First, the English language has never been a stable, fixed thing. English has been in a constant state of change over the course of centuries, and new communication technologies have always inspired playful inventiveness in their users.
And second, there isn't anything new in today's anxiety about the effects that new media forms will have on us. Plato reported in 360 B.C., for instance, that Socrates was concerned about the "forgetfulness" that the technology of writing would produce in the souls of those who learned it, and numerous scholars in the 15th and 16th centuries expressed worries about the changes that would result from the wide dissemination of texts made possible by print.

Writing certainly changed the ways that knowledge was shared, and print made possible its wide distribution, but no one today would say that writing or print made us less able to communicate effectively. Nonetheless, many people do assume today that technologies like text messaging and Facebook, which make communication so easy, are causing a deterioration in actual communication skills, especially among students.
Just as writing and print helped create changes in Western culture, new digital technologies are inevitably leading to new ways of communicating. But the popular claim that the rise of text messaging will lead to a decline in writing skills in the U.S. is probably exaggerated.
Part of the problem is that "writing" is still seen by many as "producing words on paper," just as "reading" may still be associated primarily with "books." Such equations run the risk of blinding us to what's actually happening in contemporary culture. Students today may read fewer printed books, but that doesn't mean "no one reads anymore." In fact, there are many more opportunities for reading today than there have ever been, more platforms and devices and formats and spaces in which we are all constantly engaged in the process of consuming and interpreting text.
Rather than producing a decline in writing (and in writing abilities), the spread of digital platforms and mobile devices has led to an explosion in opportunities for writing. These are the new opportunities that we're exploring at the Modern Language Association, as professors and students alike use these platforms for communicating with one another. Students today can publish blogs, exchange ideas with their friends using social networking systems and produce and distribute their own audio and video recordings, and they can respond to the things that their friends publish as well.
The challenge for all of us - students, parents and educators alike - is to understand that these modes of online writing with which so many people engage today are writing. Rather than dismissing these digital exchanges as silly or superficial, we should put them to work for us. It might turn out that these new forms provide important benefits for learning today. For instance, having students write blog posts instead of traditional research papers might raise the stakes of writing as a form of communication by providing students with an audience beyond the instructor. When more people can read and respond to a piece of writing, the writing takes on that much more importance.
The question of audience is paramount. Writing online can allow students to engage with many different audiences, leading to an understanding that the appropriateness of various modes of communication has as much to do with the audience that writing seeks to reach as it does with "correctness" in any narrow sense. The kinds of abbreviations and slang and, shall we say, creative spelling used in text-messaging with one's friends don't belong in formal presentations of research. This is not because those inventions are wrong, however, but because they're not taking audience into account.
Just as the English language has never been static, it has also never been singular: We all speak multiple "Englishes," depending on the audience. The trick is to find ways to inspire today's students to put those multiple Englishes to work so that they can become as fluent as possible in the many modes of communication available today.
The opinions expressed in this commentary are solely those of Kathleen Fitzpatrick.