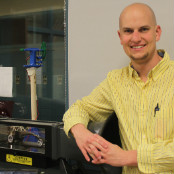 by Matt Walton, Special to CNN
Editor's note: Matt Walton a technology and engineering education teacher at Glen Allen High School in Henrico County, Virginia. He has a master's degree in education and a bachelor of science degree in technology education from North   Carolina State University. 
You might have noticed a recent TV commercial from Chevron Corp. showing a Chevron professional next to an eighth-grade student with a robot. The student describes the remote control robot, and the young Chevron professional talks about how a high school science teacher made him what he is today (a geologist for Chevron). The next part of the commercial caught my attention, because in bold letters the words "Science Rules" flashed on the screen. While I agree that "science rules," so does technology and engineering.
What the ad is demonstrating is not science education, but rather the middle two letters of STEM - or science, technology, engineering and math - education. Often technology and engineering education is overlooked when people talk about STEM education or when governments make decisions about education policy.
FULL POST