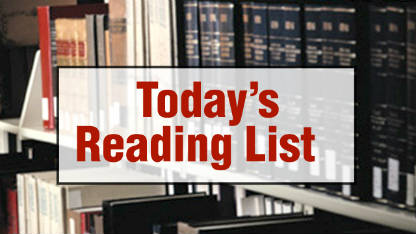 Here's what the editors of Schools of Thought are reading today:
AJC: Judge: Fulton Schools owes special-needs student in abuse case a free education
A judge ruled that a Georgia school district failed to provide a special needs student with a "free and appropriate public education." The 19-year-old student will be allowed to have a private education for the next five years – and the district has to pay for it.
TBO.com: School rankings show tie between poverty, performance
The state of Florida ranked all of its schools based on standardized test scores. In one large school district, the rankings reflected the percentage of students on free and reduced lunch.
CBSPhilly.com: Councilwoman says ads on school buses can help close budget gap
A Philadelphia City councilwoman will present a controversial proposal to help boost revenues of the city's school district. How? By displaying ads on the district's yellow school buses.
U.S. News: President Obama to Hold White House Science Fair
The White House has announced that it will hold a science fair next week that will include students from nationally held science competitions.
Miami Herald: Senate approves school prayer bill
The Florida state senate approved a measure that would allow student-led school prayer. Some lawmakers say the bill as written is unconstitutional and could subject the state to lawsuits.