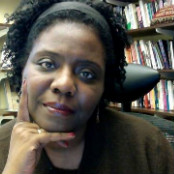 by Noliwe Rooks, Special to CNN
Editor's Note: Noliwe Rooks is the associate director of the Center for African American Studies at Princeton University and the founding coordinator of the center's urban education reform initiative. She is a member of the Op Ed Project. You can follow her on Twitter @nrookie .
Today, fewer Americans than ever believe one requirement of citizenship is to right the wrongs in our nation. So says a recent report by the American Association of American Colleges and Universities released recently at the White House. The report, called "A Crucible Moment: College Learning and Democracy's Future,"  warns that the United States is nearing the point of becoming a "citizen-less" nation where the majority sit on the sidelines pointing out, complaining about and urging others to act.
So what do we do in the face of this dire scenario? The report recommends that colleges and universities begin to make civic engagement central to the college experience. The preparation for democracy, they argue, is as important to our nation's future as is learning to write, count and prepare for a career.
As a professor at Princeton University with a focus on education and social and civic entrepreneurship, I couldn't agree more. I see the power of empowering the civic imaginations of students every day, equipping them with real world skills to think critically about their communities, innovate and advocate on behalf of themselves and others, and stay resilient in the long slog for societal change.
If civic engagement is to become a central focus for the Obama administration and a key feature of higher education, we need a version of it that moves beyond merely voting, volunteering or tutoring. We need to provide opportunities for students and faculty to use their skills as writers, thinkers and researchers to become social entrepreneurs who work to actually solve social issues, not just soften their impact. The version of civics that we teach now is a Band-aid to our social and political ills.  A new vision could encourage students to find a cure, getting at the root causes of inequality and injustice and transforming our nation.

This is not to suggest that we need fewer volunteers or tutors. Giving back in those ways can be a sincere expression of caring, which is never a bad thing. But if we reimagine civic engagement, we can open up pathways for addressing a host of civic failures that we face, including unemployment. When students are trained to be social entrepreneurs who use their education to solve social justice issues, they not only increase their employment prospects, but they also raise the value of a college education and create better lives for those who are not fortunate enough to receive a university degree.
By any definition, this would be a win-win proposition, especially at a time when the value of a college education is increasingly in question. According to statistics cited in The New York Times, only 45.4% of humanities graduates, for example, are gainfully employed in jobs that require a college degree. Another 29.4% are working in jobs where no college degree is even necessary. The rest are unemployed. Civic engagement skills are also job skills. In other words, what's good for our nation's civic health is good for individual citizens' economic health.
This new vision of civic engagement must be cross-disciplinary for a cross-disciplinary world. Departments across campuses can collaborate to form research teams that function in ways similar to how research labs in the sciences are organized. Each "lab," comprised of students specializing in a range of issues areas, can be led by an interdisciplinary faculty team. Their collective goal can be to work with businesses, religious organizations, nonprofit organizations and educational groups in their local communities to propose and implement innovative solutions to ongoing problems.
We've seen it work here at Princeton. In one of our African-American studies courses on social entrepreneurship, students presented their research and recommendations for an urban employment project to government officials in a nearby urban area. Their vision became the basis for a successfully funded federal grant. Another group in a course on education reform researched ways to help struggling urban public schools. They presented their findings to a regional school superintendent and implemented a research study, based on best practices and aimed at addressing the social, emotional and academic health in one particular school. The students were thrilled to see their academic pursuits have real world impact, and equipped with marketable skills and an impressive line for their young resumes in the process.
As the American Association of American Colleges and Universities report makes clear, the reframing of civic engagement is critical to the health of our nation and the role of colleges and universities in our society. In one fell swoop, we can cut down on widespread underemployment and unemployment among recent college graduates, promote creative and sustained thinking about solving intractable problems like racial, social and economic inequality, and strengthen the dwindling base of engaged citizens. So what are we waiting for?
The opinions expressed in this commentary are solely those of Noliwe Rooks.