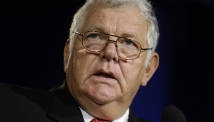 Editor's note: William J. Bennett, a CNN contributor, is the author of "The Book of Man: Readings on the Path to Manhood." He is a former secretary of Education and a senior adviser to Project Lead the Way, a nonprofit organization dedicated to providing STEM education curricular programs.
(CNN) - Almost everyone, from educators to government officials to industry experts, laments the lackluster abilities and performance of our nations' students in science, technology, engineering and math (know as STEM education).
Two indicators are particularly worrisome, especially as this country experiences greater global competition and high unemployment. American students score 23rd in math and 31st in science when compared with 65 other top industrial countries. In math, we are beaten by countries from Lichtenstein and Slovakia to the Netherlands and Singapore. In science, we are beaten by countries from New Zealand and Estonia to Finland and Hungary.
For the United States, which led the way in space after Sputnik and showed the way in technological development and economic growth for the last 40 years, this is more than an embarrassment. And, for the future of our own GDP, economic well-being, and employer and employment needs, this is a disaster in the making. If the United States wishes to remain the most competitive and innovative country in the world - never mind just another competitive and innovative country in the constellation of industrial nations - this cannot stand.