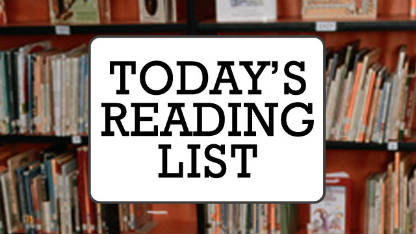 Here's what the editors of Schools of Thought are reading today:
StLToday.com: Missouri schools test four-day week
Some rural Missouri schools are taking Mondays off as part of a cost-cutting measure. The concept is a tough sell on parents trying to find child care, but school officials say the shorter week has saved jobs and saved money on school lunches and fuel for buses.
MySA.com: Schools going to war — of sorts
A Texas school district has set up "war rooms" in each of its schools. Instead of battlefield maps, the rooms contain student performance data that are used as a tool to improve performance.
Sun Sentinel: To keep class sizes low, Broward schools will cap classes, put some students in offices
Some overcrowded Broward County, Florida schools are shuffling students around to avoid state fines. Some students are taking classes in administrative offices; some schools are encouraging students to attend school virtually.
WLFI: Controversy over breast cancer bracelet
An eighth grader says that he wears a bracelet with a slang term in order to show his support for breast cancer. He refused to turn the bracelet inside out when asked by school officials, and his father filed suit on First Amendment grounds.
NPR: Milestone At University Of Michigan : Muslim Chaplain
Mohammed Tayssir Safi is the first endowed Muslim chaplain at a public American university. Safi hopes to help Muslim students transition as they try to keep their faith while being introduced to university life.