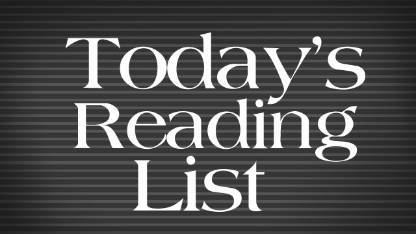 Here's what the editors of Schools of Thought are reading today:
NSTA: NSTA Legislative Update: February 2012
The National Science Teacher's Association is tracking the progress of reauthorization of the Elementary and Secondary Education Act (ESEA), also known as No Child Left Behind (NCLB). A Senate committee has approved a bipartisan bill, but it won't come up for a full Senate vote until the House passes a bipartisan bill as well. The House is pushing their version in small chunks, but only one bill, to reauthorize and streamline charter schools, has the support of both parties.
NPR: R.I. Student Draws Ire Over School Prayer Challenge
A federal judge has sided with a 16-year-old atheist who sued over a school prayer banner that has hung in her school since the 1960s. School officials have covered the banner in plywood and an American flag as they decide whether to appeal the ruling.
Arizona Daily Star: Classroom sex talk, insults not enough to get some TUSD employees fired
A public records request yielded 250 pages of documents related to incidents involving Tucson Unified School District teachers and staff during the first 9 months of 2011. While the district did fire some staff over violations, no teachers were terminated in that time, even though the district's superintendent admits that some of the misbehaviors should have resulted in dismissal.
Carolina Journal Online: Preschooler's Homemade Lunch Replaced with Cafeteria "Nuggets"
A preschooler's mother packs a lunch that her preschool daughter will eat, including a turkey and cheese sandwich, a banana, potato chips and juice. Officials replaced the homemade meal with one that meets USDA guidelines, but the four-year-old would only eat the chicken nuggets in the new meal.
Gazette.com: D-49 teacher selected for Holocaust workshop
Twenty teachers will attend a workshop next month at the United States Holocaust Memorial Museum in Washington, D.C. Horizon Middle School teacher Liz Dalzell-Wagers says that she will use the experience to teach her students about the impact of the Holocaust on America.