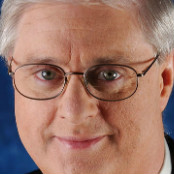 By Dennis Van Roekel, Special to CNN
Editor's note: Dennis Van Roekel taught high school math in Phoenix for 23 years. A longtime activist for children and public education, he is president of the National Education Association, which represents more than 3 million public school employees.
On March 2, 45 million people are expected to take part in the National Education Association's Read Across America Day, the nationwide program that helps children discover the joy of reading.
As a teacher, I emphasized to my students the value of reading. But I am also a parent, and as a parent, one of my favorite things to do was read to my children. We'd pick out favorite books, and I'd read them over and over at their request. We opened up doors to imagination and wonder.
I'll never forget the excitement in their eyes as we moved through story after story, adventure after adventure. At the same time, I knew they were learning new words, new sentences and new stories. And as they learned to read on their own, my children discovered new books, new worlds and new skills. Books were their gateway to learning, and my ongoing mission was to keep the excitement and the learning going.

Today the landscape of parenting and reading has changed. We're in the age of social media and digital technology, including digital books and apps. Parenting children and teens in the current environment brings an additional challenge - holding their attention. Parents are constantly asking: "How can I nurture in my child a love of reading? How can I prepare my child for success in school?" The 2010 Scholastic Family Reading Report says parents and families continue to value reading for fun but are increasingly distracted by smartphones and social media.
Despite the challenges, educators know that it is important for parents to begin to instill a love of reading early in a child's life. According to a report by the U.S. Department of Education, reading aloud to your child for 30 minutes a day has a significant impact. If you start while your child is an infant, your child will have heard 900 hours of stories by the age of 5. This critical investment of time translates into academic success later.
Gotta Watch: Dr. Seuss turns 108
Encourage your children to love books by reading aloud to them; the earlier you start the better. Even a baby a few months old can see pictures, hear your voice and turn cardboard pages. Let children and even teens see you reading. By reading newspapers, magazines, books, even digital readers, you help your children understand that reading is a gateway to exploration.
Use technology to your advantage by exploring digital books at home or at the library. Digital books often include additional resources for home and the classroom. Explore reading applications together. Dr. Seuss book apps, for example, include activities and games to enhance the reading experience. There are many more books with digital extensions that make reading magical. If you're away from home, Skype and read with your child or make an audiotape or recording with your phone so your child can follow along.
For struggling readers, find the hook. For boys, look to www.guysread.com and for teens, check out the books on www.adlit.org. The NEA has customized book lists for students that are categorized by interest. According to Scholastic's Family Reading Report, students are most likely to finish a book they chose themselves.
Most important of all - read. Read and share. That's the true meaning and reason for Read Across America - sharing the love of reading, in every form, in every way on March 2 and every day.
The opinions expressed in this commentary are solely those of Dennis Van Roekel.