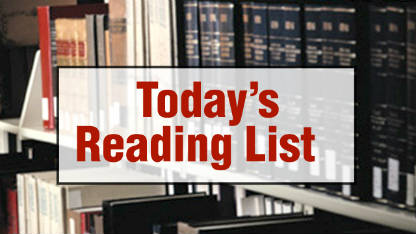 Here's what the editors of Schools of Thought are reading today:
WSBTV.com: APS to fire 11 educators named in cheating scandal
Sixty Atlanta public school teachers suspected of cheating on standardized tests recently were told to resign or be fired. To date, eleven teachers have been fired, nine others quit or retired, and Georgia's licensing board has recommended suspension or revocation of 16 teaching certificates.
Miami Herald: Both bullies and their targets need help from adults
In the wake of a recent school shooting near Cleveland, Ohio, Carmen Caldwell points out that students who are bullied aren't the only ones who need help. She says many bullies are victims or witnesses of domestic abuse.
SFGate: S.F. schools waive seniority for some in layoffs
San Francisco's school board voted to layoff off 485 educators and staff. In a move opposed by the local teachers union, the board also voted to protect the jobs of 70 low-seniority teachers who were brought in recently to help improve low-performing schools.
U.S. News: Avoid Social Media M.B.A.'s, Some Students Say
Several business schools are offering concentrations in managing and marketing social media. Some people argue that there isn't yet enough information about using social media in business to fill more than a few classes, while at least one university is offering nearly a dozen business courses that refer to social media.
Chicago Tribune: CPS students to meet Nobel Peace Prize laureates
Some Chicago public school system students have been learning about Nobel Peace Prize Laureates since November. Next month, the students will have a chance to interact with some of the people they've studied.