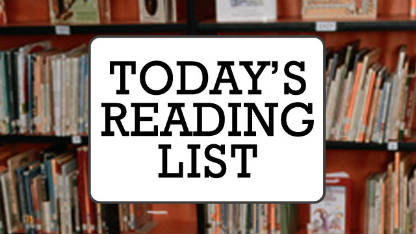 Here's what the editors of Schools of Thought are reading today:
NYR: Opinion – Flunking Arne Duncan
Diane Ravitch argues that if U.S. Secretary of Education likes to evaluate teachers, then the public should be able to rate Secretary Duncan's progress. Ravitch offers her report card on the education secretary, and it doesn't include any As for effort.
The Atlantic: Opinion – Why Great Teachers Are Also Learners
Vicki Davis encourages teachers to love learning, because when students see enthusiasm for learning, she says, they are inspired and will want to learn.
NBC4.com: CCS' Unpaid School Lunch Accounts Go Into Collection
Columbus City Schools says it is short a million dollars – from parents who owe the school lunch fund. The district says thousands of parents who owe more than $50 could be hearing from a collection agency if their lunch accounts aren't settled by the end of the month.
KESQ.com: Palm Desert High School Designated 'Cuss-Free Zone'
The staff at California's Palm Desert High School is challenging its students to stop cussing. Each classroom has a "swear jar" and more than 80 students have joined the school's "no cussing" club.
9News.com: Girl handcuffed in school for being 'extremely rude'
A Colorado 11-year-old student was handcuffed and transported to a juvenile holding facility for being rude to school officials. Her mother admits her daughter was wrong, but thinks that being arrested was too severe a punishment, while school officials say the incident was handled appropriately.