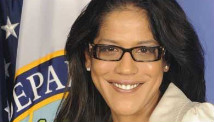 Editor's note: Russlynn Ali is the Assistant Secretary for Civil Rights at the U.S. Department of Education. She was a teacher, an attorney and worked at the Children's Defense Fund, and she has also taught law at the University of Southern California Law Center. Ali was appointed to the Department of Education by President Barack Obama in 2009.
By Russlynn Ali, Special to CNN
(CNN) – If a society based on the ideal of fundamental equality is to fulfill its promise, it cannot afford to look away when confronted with stark inequity. Last week, the Department of Education released a trove of data from Part II of the Civil Rights Data Collection (CRDC), a self-reported survey of more than 72,000 schools that serve 85 percent of the nation's students.
The findings demand our attention.
This survey quantified how school resources are distributed in schools and districts; whether in teacher salaries, the assignment of experienced teachers, or access to college and career preparatory coursework like algebra, calculus or gifted and talented programs. And it showed that African-American and Latino students routinely receive less.
These disparities stand out even more when contrasted with the one area where African-American and Latino students are consistently overrepresented – discipline, including the rates of suspension, expulsion, and in-school arrests.
FULL POST