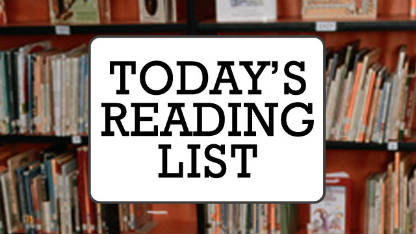 Here's what the editors of Schools of Thought are reading today:
CBSDenver: Garfield Re-2 Schools to Get Permanent 3-Day Weekends
Facing its 4th year of budget cuts, the Garfield School District Re-2 School Board has voted to reduce the school week to four days. The move will affect ten schools in the district.
Fox8.com: Elementary School Students Hurt in Wild Food Fight
Dozens of students reported injuries and eight were taken to the hospital after a lunchtime food fight breaks out in the cafeteria of a Cleveland elementary school.
KETV.com: Teen Surprised Teammates After Recovering from Coma
A high school wrestler who was in a coma after a car accident surprises his teammates and walks into their awards banquet.
NYTimes: Spring Break Gets Tamer as World Watches Online
They're still heading to beaches for Spring Break, but today's college crowd is very aware of the consequences of possible appearances on social media.
Washington Post: The Answer Sheet: How retaking the SAT changed prep tutor's view
A test prep tutor takes the SAT and passes on some of what she learned from the experience.