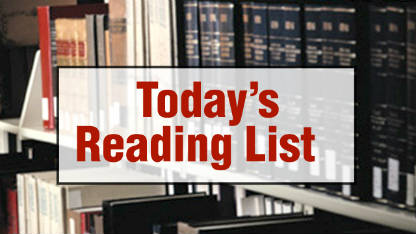 Here's what the editors of Schools of Thought are reading today:
The Salt Lake Tribune: Herbert vetoes sex-ed bill, says it constricts parental choice
Utah's governor has vetoed a bill that would mandate that public schools could either have abstinence-only sex education programs or no sex education program at all. The governor says the existing law, which gives parents the choice of whether their children receive sex education or not, is sufficient.
Education Week: Bridging Differences: The Lesson of Florida
Florida's legislature recently rejected a "parent trigger" bill that would have given parents the power to overhaul local public schools. Diane Ravitch says parents figured out that for-profit charter companies, not parents, would have been the real beneficiaries.
New York Times: Room for Debate: Make Sure Parents, not Companies, Have Power
When it comes to parent trigger laws, Amy Wilkins says parents need to be involved in the decisions setting up the new school as much as they were involved in dismantling the old one.
Bakersfieldnow.com: School board members get perks while teachers lose jobs
Greenfield Union School District recently laid off 23 teachers. The school board said that it had cut the budget to the bone to lessen the impact on teachers, but some people think one more budget item should be eliminated – the elected board's $59,000 health care plan.
Edutopia: Create a Good Environment for Studying at Home
Psychologist Art Markman gives his advice for an effective studying environment. Markman says students need a consistent environment to truly develop their study habits.