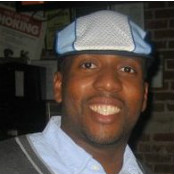 By Jose L. Vilson, Special to CNN
Editor's note: Jose Vilson is a math teacher, math instructional coach and data analyst in a New York public school. He can be found at TheJoseVilson.com. Vilson is also on the board of directors for the Center for Teaching Quality and the steering committee for the Save Our Schools Movement. Tune in to AC360 at 8 and 10 p.m. ET for the special series "Kids on Race: The Hidden Picture".
 (CNN) - Recently, there's been controversy over the motion picture "The Hunger Games" and the casting choice for Rue, a character that the book's author, Suzanne Collins, intended to be dark-skinned at the very least. Amandla Stenberg, a young black actress, plays Rue in a cast that also includes rocker Lenny Kravitz and actress Kimiko Gelman.
Some fans expressed disappointment all over social media that they didn't think the character should be black and that they hadn't envisioned a black child as this character to whom they gravitated to so ardently in print. One search on Twitter for Rue leads to a set of tweets ranging from subtly questionable to strangely racist.
Teens are the predominant target group for this movie. At some point, don't we as a society have to step in and question what we're teaching our children about race? Isn't it our responsibility as caring adults to tell our children that our differences only make our country richer in experience? How do we get our young boys and girls to understand that the difference they see in skin color, facial features and accents don't make other people any less human? How can we change the climate of America's race relations to the point where more people believe that Rue, a fictional character, is still every bit the relatable figure for fans of the novel regardless of the race we assign to her?
If we're in the position to speak to our youth, we have a responsibility to teach them about race in a way that makes sense for the 21st century. At this point, we can all agree that race as a social institution has been engrained into our society. Rather than tiptoeing around what we call different peoples or honing in on two or three historical figures in a specific community, we ought to consider the concept of color-consciousness.

Color-consciousness, an idea I first saw in Beverly Daniel Tatum's seminal "Why Do all the Black Kids Sit Together in the Cafeteria," implores us to stop thinking we're colorblind and consider a different strategy. Instead, we should seek to understand people for who they are as a whole and not judge a person because of differences.
For example, when a young man walks into my classroom for the first time, I may make an assessment on how to say his name, where he sits in my classroom, and how he typically dresses when he comes to school. I take a good look at his habits, his intonations and the way he writes. I even get a good sense of what he likes and who are his friends.
Yet none of this affects whether or not he deserves a good grade in my class. As a matter of fact, I sift through some of these red herrings of bad scholarship (such as hoodies and sweets, for instance) and get to the heart of the matter. Does he get the material? Does he participate in class? What doesn't he understand about what I'm teaching? How can I extend the learning in the class to meet the students' needs with what resources I have?
Some might read this and think, "But isn't that a colorblind way of approaching teaching?" No. If anything, the fact that I prefaced knowing the person before knowing the material should tell you a lot about how I prepare lessons and explain material.  I might plan the lesson with a mention of their names in it with a situation I know they like. I might use a little Spanish to connect an idea to a cognate in English. I might change a problem set knowing that my students don't have an experience in a certain setting or around people different from them.
Things like that go a long way in modeling the sorts of behavior we want our children to have. For different reasons, the people who ought to take the lead on changing the race dynamic feel uncomfortable with discussing it, even when they're teaching children of color. Everything from the literature and informational text we ask kids to read to the themes we pursue in a social studies context matter. When kids don't get a chance to have a nuanced conversation about the realities of race in this country, they inevitably go back to their pockets of reality.
In other words, Collins could have begged us to see Rue as a dark-skinned girl, and children who consider themselves devout fans of "The Hunger Games" would still ignore this important detail and portray Rue as white. It's easy for me to dismiss these individuals as racists, but it's more complex. Children are not born racist, but they are born to differentiate between people and possibly put them into categories. What we do or assign to those categories determines whether or not children can envision the movie in black and white or high-definition.
The opinions expressed in this commentary are solely those of Jose Vilson.