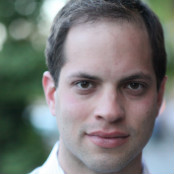 By Dan Brown, Special to CNN
Editor's Note: Dan Brown is the author of "The Great Expectations School: A Rookie Year in the New Blackboard Jungle," a memoir of his first year teaching in the Bronx. He now teaches English at a charter school in Washington and blogs on education at TransformEd. Dan Brown did not write "The Da Vinci Code," and he is OK with that. Follow him on Twitter @danbrownteacher.  Tune in to AC360 at 8 and 10 p.m. ET for the special series "Kids on Race: The Hidden Picture".
I'm white; 99% of my students are black. There are many other classrooms like mine across the country. According to the most recent census data, 84% of teachers in America are white and around 45% of students are not.
My students and I are coming from different places. I grew up in an affluent Philadelphia suburb; most of my students, born and raised in Washington, qualify for free or reduced meals. Both of my parents hold postgraduate degrees; many of my students, growing up in single-parent homes, are attempting to be the first in their families to complete college.
How do I bridge this gap between my students and me?
My high school English classroom in Southeast Washington is a place where my students and I investigate the concept of identity. Since race is a part of our identity, we explore it.

Ground rules
We must trust each other before a substantive exploration of anything can take place. I initiate a discussion about our expectations for each other, and then I make these commitments:
- I will do everything I can to build a respectful and safe classroom environment for intellectual curiosity and exploration of many topics, including deeply personal ones such as race.
- You can ask me anything. Also, I invite you to respectfully disagree with or thoughtfully challenge anything I say, especially on sensitive subjects.
- Our class will feature analytical discussions regularly and everyone will have opportunities to voice their thoughts aloud and in writing. I care about your ideas. We can all learn from each other.
- I'll never say the n-word, even when it's printed in a text. When we do encounter the n-word or other slurs, we can engage in honest discussions about the power of language.
Many voices
A curriculum featuring voices from the same race as the students is indispensable.
As a student teacher in the Bronx, where more than half of my students were Hispanic, I led a unit on Ernesto Quiňonez's novel "Bodega Dreams." One of my students, a Puerto Rican girl named Maribel, sent me a note telling me this was the first time she'd ever been assigned a book by a Puerto Rican author or featuring Puerto Rican main characters, and reading this book in class meant everything to her. Maribel's participation and quality of work soared.
As a student, I'd been assigned so many books by white authors that it had never even occurred to me that someone could go through school without reading a single book in the voice of someone of my race. The effect of that glaring absence is a mindset of exclusion, of being locked outside the ivory gates of scholarship - exactly the opposite for which teachers aim.
In my class of African-American students, we examine a diverse range of legends such as Zora Neale Hurston, Richard Wright and Langston Hughes, and we also wrestle with more contemporary black writers such as Ta-Nehisi Coates and Octavia Butler. No race is monolithic, so a range of voices and genres is crucial. The eloquence in the diverse texts inspires great discussions and deepens our worldviews. In these texts, my students encounter people who look like them and who are giants.
It's important that my class does not study African-American voices exclusively.
Diversity is enriching, and since we don't have ethnic diversity in our de facto segregated student body, we can manufacture it to an extent with the curriculum.
When black students identify with Junior, the American Indian protagonist from Sherman Alexie's brilliant "The Absolutely True Diary of a Part-Time Indian" (and they always do - that book is golden), the scope of their worldview expands. When they read Harper Lee, Khaled Hosseini and Shakespeare, they grapple powerfully with the universality of their journeys to adulthood.
Literature is a potent lens through which we can examine race and identity. Many of the differences that may initially define my students and me melt away with time, trust, and great books.
The limits
Book learning only goes so far.
Learners benefit profoundly from diversity, which means not having only white teachers every year. Also, 84% of all teachers are women, so there is a real chance that students might move through school exposed solely to white female teachers. If that is the case, something crucial is missing.
Students of color, especially ones aiming to be the first-generation college grads, need to interact daily with people like themselves who have walked the same road, and achieved success.
If I can contribute to building up my students for college graduation, they can be much-needed authentic role models for the next generation of kids from Southeast D.C. and elsewhere. Maybe they will even curb the persistent teacher gap. Each success is a chip away from the social millstone of segregation, and that's a win for everyone.
The opinions expressed in this commentary are solely those of Dan Brown.