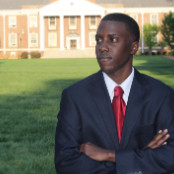 By Jared Loggins, Special to CNN
Editor's Note: Jared Loggins is a Martin Luther King Jr. Legacy Scholar and Political Science major at Morehouse College. Follow him on Twitter at @MrJaredLoggins.
(CNN) - As an entire nation marked the anniversary of the slaying of civil rights leader the Rev. Dr. Martin Luther King Jr. last week, members of the Morehouse College community came together not just to celebrate the life of a man, but to mark the continuance of the nonviolent revolution Dr. King helped to promulgate . As we all continue to further develop our understanding of what it means to live in a truly peaceful and nonviolent world, we must do so even amidst a culture of racism, militarism and materialism. As costly wars rage around us; as weaponless young black men are killed for appearing "suspicious," and even as society continues to drown in material wealth, we must still find a way to move toward living in what Dr. King called "the beloved community." This community must be one that embodies multiculturalism; it must look beyond the hue of one's skin; and it must cease accepting laws that directly conflict with the foundation of America.
The impediment blocking us from moving toward a more peaceful and just world is rooted in the fact that nonviolence has not been accurately contextualized to fit the 21st century. Nonviolence is so much more than marching, sit-ins, and picket rallies. Nonviolence is an attitude. It is through our actions that we will ever see justice through nonviolence. However, in order to see justice through nonviolence, it is important to not mistake justice with vengeance. In the context of King's nonviolent practices, justice is not served by putting a man behind bars or harming him for his crimes –that is vengeance; justice is served by repealing the inhumane laws that are at the root of hatred in society . In 1967, King gave one of his more critical and notable speeches on the need to pursue justice through nonviolence. The speech, "Where Do We Go From Here?" was a call to action for African-Americans already weary from years of struggle .
In the speech, King says: "The ultimate weakness of violence is that it is a descending spiral, begetting the very thing it seeks to destroy. Instead of diminishing evil, it multiplies it. Through violence you may murder the liar, but you cannot murder the lie, nor establish the truth. Through violence you may murder the hater, but you do not murder hate. In fact, violence merely increases hate. So it goes. ... Returning hate for hate multiplies hate…"

James Craig Anderson was run over and killed by a racist white teen after being beaten by a group of white teens in a rural Mississippi town in June of last year. The crime sparked outrage across the nation . All three men pleaded guilty to federal hate-crime charges. Anderson's sister, Barbara Anderson Young and her family, had asked the Hinds County district attorney not to seek the death penalty for several reasons. The family believed the crime was diametrically opposed to their Christian beliefs; and they believed killing these men would not aid in moving closer toward racial reconciliation in Mississippi and across the country. The outcome of this case is important as we continue to inch toward a nonviolent society. As easy as it would have been to seek the death penalty in this heinous crime, Young and her family understood the often misinterpreted difference between justice and revenge. We must all come to terms with the fact that hate and reciprocal violence will not bring us together, it will continue to divide us.
Dr. Vincent Harding was a friend and colleague of Dr. King. He currently teaches The Last Years of Dr. King and the Future of America at Morehouse College. He has completed extensive research on Dr. King's life and the teachings of nonviolence. Harding says, "We are on this Earth to heal each other. Until we find a way to work toward healing and until we understand that we are all brothers, we will not know peace."
We will never know peace if we continue to accept our punitive justice system as just and fair. We will never know peace if we continuously seek revenge against those because of unjust laws without working toward repealing them. Most importantly, we will never know peace because we don't live peacefully. Living peacefully requires us all to forgive. If Dr. King's beloved community is to come into fruition, we must learn to live together, love each other, and forgive.
As future leaders of America, we have an obligation to create a peaceful and more perfect world. Our continued success as a nation is dependent upon our willingness to accept our differences and move past our individual biases and stereotypes. A nonviolent world begins when we remove hate from our hearts and replace it with love and respect for humankind.
The opinions expressed in this commentary are solely those of Jared Loggins.