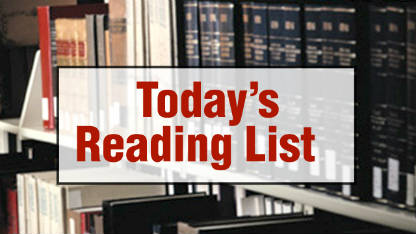 Here's what the editors of Schools of Thought are reading today:
Scathing Purple Musings: The LA Times Critical Take on Parent Trigger Shows Why It's Wrong for Florida
Blogger Bob Sikes uses a recent Los Angeles Times op-ed to back up his argument against the parent trigger for Florida.
Forbes: The (Fat) Envelope Please: College Admission Tougher Than Ever
The Ivy League universities became just a little bit more exclusive as they admitted a lower percentage of students in next year's class. The colleges say they are looking for diversity, and that could mean more well-rounded, high-achieving white females should look to their safety schools, according to the article.
The Inspired Classroom: 5 Reasons to Add Technology to Your Classroom
It can take a leap of faith and a pot of money to bring technology into the modern classroom. But knowing how to use technology is a skill that will benefit students personally and professionally.
The Chronicle of Higher Education: 3 Major Publishers Sue Open-Education Textbook Start-Up
Boundless Learning is trying a new model for textbooks, using freely available material found on the Internet to produce a cheaper textbook. Several traditional publishers have sued Boundless over copyright violations before the start-up has opened its doors to the public.
Seacoastonline.com: Elementary homework seen as effective tool of education
There is a debate over the value of elementary school homework. Some Maine administrators contend that this homework helps develop effective study habits and parents are split on the issue.