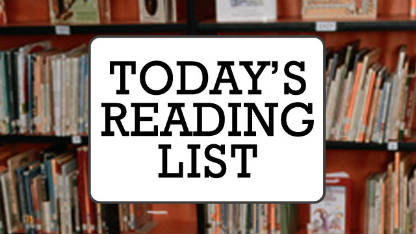 Here's what the editors of Schools of Thought are reading today:
Huffington Post: Education Top-Tier 2012 Election Issue In Swing States, Survey Shows
Talk about education issues has been largely absent from the presidential primary campaign, with only one percent of debate questions centered around the issue. The College Board says its new survey shows that education issues rank third in importance among voters in swing states like Ohio.
Mashable.com: Facebook Launches Groups for Schools
Facebook is going back to its roots as it launches groups that only people with ".edu" email addresses can join. New apps and the social networking site itself are bringing back some of the features that once made Facebook a college campus hub on the Internet.
WSBTV.com: Student refuses to go to graduation at New Birth Missionary Baptist Church
Nahkoura Mahnassi plans to skip her high school graduation because it is being held inside a church. The school district says that its schools must select venues that are large enough for the graduating class, even if the building is owned by a faith-based organization.
New York Times: College Admissions Advice for 'Neurotic' Parents
As her sons started looking at colleges, blogger J.D. Rothman began to stress out a little. She asked a panel of experts for advice on summer activities, test prep, and safety schools.
Education Week: Texas H.S. Football Players Spend Spare Time as 'Bully Guards'
At some schools, football players may have a reputation for bullying. At Johnson High school in Texas, football players are the bodyguards.