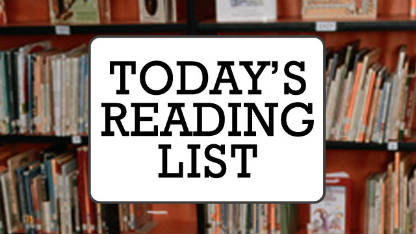 Here's what the editors of Schools of Thought are reading today:
Al.com: Atlanta newspaper's report on school cheating left out key details, USA professor says
The Atlanta Journal-Constitution conducted a nationwide study on cheating on America's high-stakes tests. Mobile, Alabama's school district, which was mentioned in the report for statistically improbable test scores, says the AJC's data doesn't tell the whole story.
Wired: Flipping the Classroom Requires More Than Video
In a flipped classroom, students watch online video lectures at home, then work on "homework" in class. The article points out that the content still needs to be relevant to a student in order to facilitate learning.
Larry Cuban: Connecting School Reform to Online Instruction in K-12 Classrooms: The Next New Thing
Studies show that achievement through online learning isn't where it needs to be. Larry Cuban says, "If you want to understand what happens to technological innovations when they are adopted and end up in classrooms, know what occurred to major school reforms that succeeded and failed."
SunSentinel: Students asked to sign honesty pledge before FCAT
Last year, Florida school officials invalidated thousands of students' scores on the state's standardized test, the Florida Comprehensive Assessment Test. The students' answer sheets were flagged when they were too similar to other students' answers. Students are being asked to take an honesty pledge before taking this year's FCATs.
KansasCity.com: Schools take on hunger, even after school
About 10% of Kansas City, Missouri's elementary students are receiving a third daily meal in their after school programs. School officials fear that the district's cafeterias are providing the only source of nutrients for some lower-income students.