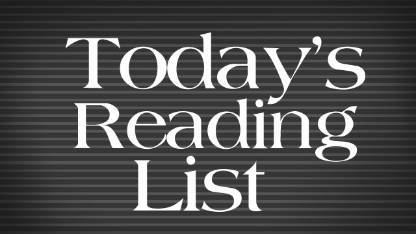 Here's what the editors of Schools of Thought are reading today:
The Atlantic: Fixing Education: The Problems Are Clear, but the Solutions Aren't Simple
A panel of educators, including New York City Public Schools Chancellor Joel Klein and American Federation of Teachers President Randi Weingarten, agree that America's education system needs to be fixed. Several of their ideas, like school choice and strengthening neighborhood schools, seem to be mutually exclusive.
Miami Herald: Charter school principal suspended for tampering with FCATs
A charter school principal is accused of opening Florida's standardized test packets, taking notes and then making a study guide for teachers. Because of the allegations, students at Ramz Academy charter school in Little Havana didn't take the test.
CantonRep.com: Silent support for 'Fish' at Carrollton BOE meeting
School officials told Austin Fisher he couldn't walk at graduation because the senior missed 16 days of school while taking care of his cancer-stricken mother. Protests by Fisher's supporters led to a meeting with Carrollton Schools Superintendent Palmer Fogler, and school officials reversed their decision.
SFexaminer.com: City looks to boost summertime learning
According to the National Summer Learning Association, summer vacation contributes to the test score gap between ninth-graders from richer and poorer families. As part of a California initiative, San Francisco plans to have summer learning activities for about 19,000 of the city's youth, with most of the students attending programs subsidized with public funding.
Education Week: Catastrophic Brain Injuries Hit All-Time High in H.S. Football
Until 2008, the number of students who became permanently disabled due to brain injuries from high school football never reached double digits. In 2011, 13 students had severe brain injuries attributed to playing the sport, more than any other year on record.