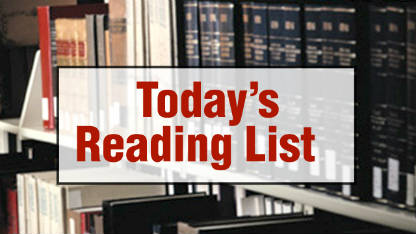 Here's what the editors of Schools of Thought are reading today:
NYTimes Schoolbook: With Test Week Here, Parents Consider the Option of Opting Out
In a show of protest against high-stakes testing that they say is counter-productive and doesn't measure a child's true ability, some parents are opting to keep their children out of the tests this year.
The Educated Reporter: Will Merit Pay Make Teachers More Effective?
Under a new law taking effect in Indiana, student test scores will now be taken into account in teacher pay raises.  Does this approach work?
WFSB:  Pro-choice, anti-abortion groups clash at UConn; 2 arrested
Two students were arrested on the Storrs campus when they blocked an anti-abortion group's display.
WAOW.com: Students pledge to stop dirty dancing
Before students at one high school in Wisconsin buy a prom ticket, they have to sign a dance code of conduct pledge.
TurnTo23.com: Local Track Team Flooded With Donations From All Over America
Fremont Elementary's track team has gone from running in flip flops and house slippers to running in real track shoes, thanks to donations that poured in after their story went viral.