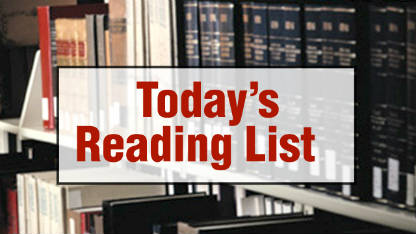 Here's what the editors of Schools of Thought are reading today:
In the Washington Post's annual Spring Cleaning article, two of the top ten things that they think should be done away with are related to education:
• Orszag: Get rid of the 3 p.m. school day
Former director of the Office of Management and Budget Peter Orszag says ending the school day at 3 p.m. should be a thing of the past. He argues that longer school days would cost more, but the benefits outweigh the increase in school budgets.
• Harris-Perry: Let's get rid of grades
Tulane University professor Melissa Harris-Perry says that giving grades to students is outdated, too. Students are more likely to pursue their interests – and take more challenging courses – if the fear of a bad grade is taken out of the equation.
U.S. News: College Students Split on Political Graduation Speakers
As the graduation season nears, some college seniors are reacting to their school's chosen commencement speakers. The article also links to an interactive map of this year's graduation speakers.
Education Week: Survey: Many Coaches Misinformed About Youth Sports Safety Risks
A recent survey of coaches of youth sports finds that many of them believe there is an acceptable level of physical contact in their sport. Almost half of the coaches surveyed said they were not well-trained in recognizing sports injuries, and almost four in ten had no training in sports safety.
NewYorkDailyNews.com: After controversy over pineapple question on city schools test, a question about a yam stirs new troubles
After a series of confusing questions about a talking pineapple was removed from New York's fourth grade reading test, a passage about a talking yam is being called unfair because the story appeared in test prep materials. Since schools had to buy the test prep materials, some students – but not all – were already familiar with the African folk tale.