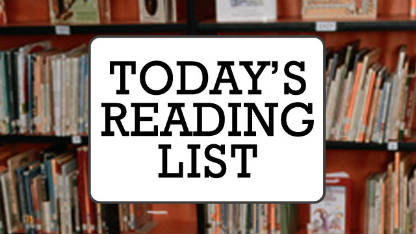 Here's what the editors of Schools of Thought are reading today:
Thomas B. Fordham Institute: Is there anything "common" left in Common Core?
Kathleen Porter-Magee says that the debate over the Common Core standards has very little to do with the content of the standards, and more to do with the politics of education reform.
Stltoday.com: Illinois considers charging kids for riding school buses
Illinois education officials are considering allowing the state's school districts to charge students to ride the school bus. Local officials across the state are queasy about the measure, saying it hurts low-income students.
WHOtv.com: IOWA PRIDE: Conference To Confront Bullying
Two weeks after a bullied teen committed suicide, 150 other homosexual teens gathered for the Iowa Pride Conference. The Iowa Pride Network says that schools should set up gay straight alliances in high schools, which the group claims can reduce verbal and physical harassment of gay teens.
KSLA12: Students ordered to cut, dye "gang related" hair styles
School officials said that a reddish dyed streak in some students' hair could be a symbol of gang activity and have ordered students with the hair style to cut or dye their hair. Some parents reluctantly obeyed the order, while Tameka Brooks pulled her two sons out of school, claiming that the district was engaging in racial profiling.
Edutopia: Kids Speak Out on Student Engagement
Heather Wolpert-Gawron asked her 220 eighth graders "What engages students?" Working with peers, using technology and connecting projects to the real world topped the list.