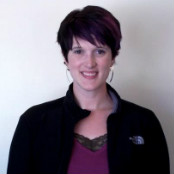 By Charlotte Walker, Special to CNN
Editor's Note: Charlotte Walker works in Maine teaching students who are deaf. She is always looking for new and innovative ways to incorporate technology in her classroom. She holds a master's degree in literacy from New England College.
I grew up in an era where technology was just becoming available, and affordable, for families to have in the home. At age 4, I would sit in my dad's lap and play Mario Brothers on the original Nintendo system (and nearly broke my dad's nose while moving the controller to make Mario jump!) A few years later I was spending my Saturday mornings playing role-playing games on our very own DOS operating system personal computer. As I grew, so did my love for technology. Thankfully, with the right guidance, I was able to recognize the importance of traditional learning as well as learning with the aid of technology, and was able to keep a balance between the two.
Today, I work in a bilingual classroom for students who are deaf or hard of hearing, and I try to balance the use of technology for my students as well. The classroom is made up of two large rooms joined by a door. I instruct in spoken English while my co-teacher instructs in American Sign Language in the other room. Our classroom has roughly 25 students. About half those students have some degree of hearing loss and the children are able to move freely between the two rooms throughout the day.
One of the main goals of my classroom is to help my students develop the skills to listen to and use spoken language. Due to their hearing loss, a lot of my students miss incidental learning opportunities. They might know what a cow is, but they may not have had explained to them what a hoof is. That is my job, to make sure my students know what things such as a hoof, or a jewel on a crown or a polka dot are called.
How is this done? Well, it could be done using traditional methods such as flash cards, but preschool children have a limited attention span, especially for static objects. These days, my preschoolers are more technologically advanced than I was as a child. They bring their iPads to school to show me slideshows they've created (with the help of their mom or dad) of their trip to the grocery store the night before. Recently, while watching two of my students in our independent drama area, I noticed they were using a building block as a cell phone, and they held the block in front of them with one arm in order to take a picture! Kids these days are tech-savvy and if there is one thing I have learned in my eight years of teaching, it is that effective teaching often means following the student's interests.
FULL POST