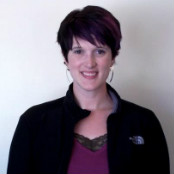 By Charlotte Walker, Special to CNN
Editor's Note: Charlotte Walker works in Maine teaching students who are deaf. She is always looking for new and innovative ways to incorporate technology in her classroom. She holds a master's degree in literacy from New England College.
I grew up in an era where technology was just becoming available, and affordable, for families to have in the home. At age 4, I would sit in my dad's lap and play Mario Brothers on the original Nintendo system (and nearly broke my dad's nose while moving the controller to make Mario jump!) A few years later I was spending my Saturday mornings playing role-playing games on our very own DOS operating system personal computer. As I grew, so did my love for technology. Thankfully, with the right guidance, I was able to recognize the importance of traditional learning as well as learning with the aid of technology, and was able to keep a balance between the two.
Today, I work in a bilingual classroom for students who are deaf or hard of hearing, and I try to balance the use of technology for my students as well. The classroom is made up of two large rooms joined by a door. I instruct in spoken English while my co-teacher instructs in American Sign Language in the other room. Our classroom has roughly 25 students. About half those students have some degree of hearing loss and the children are able to move freely between the two rooms throughout the day.
One of the main goals of my classroom is to help my students develop the skills to listen to and use spoken language. Due to their hearing loss, a lot of my students miss incidental learning opportunities. They might know what a cow is, but they may not have had explained to them what a hoof is. That is my job, to make sure my students know what things such as a hoof, or a jewel on a crown or a polka dot are called.
How is this done? Well, it could be done using traditional methods such as flash cards, but preschool children have a limited attention span, especially for static objects. These days, my preschoolers are more technologically advanced than I was as a child. They bring their iPads to school to show me slideshows they've created (with the help of their mom or dad) of their trip to the grocery store the night before. Recently, while watching two of my students in our independent drama area, I noticed they were using a building block as a cell phone, and they held the block in front of them with one arm in order to take a picture! Kids these days are tech-savvy and if there is one thing I have learned in my eight years of teaching, it is that effective teaching often means following the student's interests.

Because my students love technology, I made it one of my priorities to use more technology in the classroom. At the beginning of the year my co-teacher and I used YouTube as a way to post videos of us reading books connected to our curriculum, in both spoken English and ASL, that the students could access in the classroom and at home with their families. I also created different picture walls documenting activities such as nature walks around the island where our school is located. I hang the pictures at their eye level and ask them to tell me about what they see. I then scribe their description and post it under the photo. The students love seeing themselves in pictures and are excited to use language to describe the experiences.
As I mentioned, preschool students have a limited attention span, especially for analog tools like flash cards, so I took a cue from their enthusiasm over the iPad and searched for a more interactive way to present my lessons. Another piece of technology I have implemented this year has been the use of the Luidia eBeam, which is a small, portable interactive whiteboard device that allows me to turn any surface into an interactive whiteboard. Because this device is mobile, my co-teacher and I are easily able to share it between the two sides of the classroom, and set it up to work at a level where the children can reach and interact with it. I have used the eBeam on our dry erase board, the back of a bookshelf, the bathroom door (not the best idea!) and also on a wall.
I was excited to see the immediate impact technology had on the learning environment and on the excitement level among my students. Bringing tools to these digital natives has enabled them to explore and build farms, go on deep-sea adventures with polar bears and penguins, and even create their own working roadways using the interactive stylus. They can experience language and learning for themselves by interacting with the lesson. The exposure to new things, such as watching penguins in their natural habitat, entices my students to ask questions and use language with excitement. For example, a student with lower language was watching a penguin swim underwater and exclaimed, "Foot, foot!" and I was able to clarify that the penguin had flippers and explain what they were used for. This small discussion turned into the students walking and swimming like penguins during free-play time and talking about their flippers.
Thanks to technology, we can bring books and stories to life for our students. Many classic children's stories can be found on the Internet, often being read by the author, and many have interactive activities for the students to enjoy after the storytelling.
Can much of this teaching and learning be done without the use of technology? Sure, which brings me back to the importance of balance between the use of technology and traditional methods of teaching. But while my students enjoy reading books, creating art and exploring our island, they have grown up with technology, and in order to reach them, we as educators must learn to adapt to meet them in their comfort zone.
My students get very excited when they see that we'll be using technology. Since taking a more integrated approach with these tools, I sometimes catch myself getting overwhelmed with how much talking is happening during a lesson in which we use it. What a wonderful thing to be overwhelmed by in a room where eliciting spoken language is my goal!
The opinions expressed in this commentary are solely those of Charlotte Walker.