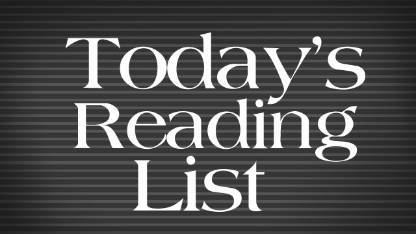 Here's what the editors of Schools of Thought are reading today:
Cooperative Catalyst: Behind the Standardized Test Curtain
Todd Farley wrote a book about his experiences working for some of the biggest standardized test publishers. Farley says there are a few reasons why schools shouldn't trust the industry to handle exam scoring.
Mail Tribune: 'It's Our Education'
Nearly 100 Eagle Point High School students walked out of school - not to spite their teachers but rather to support them. The Oregon school district and its teachers union have been trying to negotiate contracts for more than a year, and the teachers have threatened to strike beginning May 8.
Georgia Health News: Long weekends risky for teens?
A North Georgia town says it's seeing a higher teen birthrate and more teens having sex in general. Health officials say a four-day school week implemented this year has caused teens to have nothing better to do on Mondays.
Wired: My Standard Based Grading Notes
Physics professor Rhett Allain has started to use standards-based grading with his college students. Allain provides his methods and results, similar to a lab report, and says that his new method of grading measures what students understand and isn't just a measure of effort.
DesMoinesRegister.com: 32 heads are better than 26: Class breaks twin record
The Guinness World Records certified that Valley Southwoods Freshman High School has the "Most Twins in the Same Academic Year at One School." The 16 sets of Iowa twins beat out the old record by three pairs.