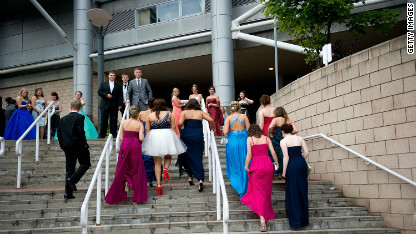 Here's what the editors of Schools of Thought are reading today about proms:
MetroWest Daily News: Are these prom dresses too hot to trot?
According to a Harvard sociologist, teen fashion may becoming more provocative due to influences like "The Jersey Shore" and Angelina Jolie. However, prom styles may have more to do with school dress codes than social norms.
AZdailysun.com: Home-schoolers don't miss out on prom
The roughly 300,000 home schooled students in Texas miss out on many of America's traditions. Home schooling groups around the state are trying to make sure prom isn't one of them.
Detroit Free Press: Project prom dress: Teen designers get creative with prom dresses made from newspapers
The Detroit Free Press issued a challenge to area high school students – make a prom dress out of the newspaper. Readers can select from eight finalists, and the winner will be awarded $500.
YNN: Johnstown prom tradition a tradition no more
In years past, Johnstown, New York seniors would arrive at prom in front-end loaders, ATV's and even boats. Officials killed the tradition this year out of concern for the students' safety.
Wave3.com: Tim Tebow goes to prom – sort of
On a bet, an Iowa teen asked New York Jets quarterback Tim Tebow to her prom through Twitter. When he didn't reply, she brought Tebow anyway – but not in the flesh, a cardboard cutout.