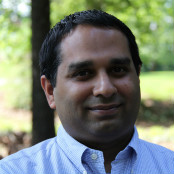 By Simit Shah, CNN
Editor's Note: In honor of Teacher Appreciation Week this week, we're asking our colleagues at CNN to share their stories of teachers who have inspired them. Simit Shah is a technical consultant at CNN.
When you're 12 years old, you do what you're told, and you pretty much believe what you're told.
From the point where I could start writing complete sentences in elementary school, I was told that I wasn't especially good at it. While I loved to read, especially anything involving the Hardy Boys or the sports section in the morning newspaper, my talents clearly resided in the realm of math and science.
So I came to accept this as fact with little to no power to change my path in life. I never questioned or challenged it; some people are good writers, and I wasn't one of those people.
All that changed my first day of Mrs. Sallie Rainwater's seventh grade English class at Marietta (Georgia) Junior High. I was fully prepared to accept that I'd muddle through another year of the standard book reports, spelling quizzes and sentence diagrams.
However, Mrs. Rainwater instead announced that we'd spend an entire year focused on writing – letters, short stories, poems. My heart sunk when I heard this, thinking that my chances at squeaking out an "A" were now slim to none.
I plotted ways to weasel out of this predicament, even requesting to switch to a traditional class, but Mrs. Rainwater would have none of that. As the year progressed, she pushed, prodded and challenged me to overcome my fears.

Now when I read, I started to understand what made something good. When I wrote, it was with purpose and focus. I was able to deconstruct and construct words like math problems, and then it all clicked. Mrs. Rainwater was supportive, but she was also firm in making sure my work reflected my best effort.
While my poetry was never going to extend beyond finding words that rhymed, my masterpiece was a short story about a major league baseball player involved in a murder. I'm sure that it could barely hold a candle to a fifth grader's Tumblr blog these days, but it far surpassed anything I'd ever written.
Something funny happened along the way. Not only did I find confidence in my writing, I found a new passion. Instead of being just a reader, I could be a writer.
Also, if I had the power to achieve something that I didn't believe was possible, then what else could I do?
Mrs. Rainwater changed the way I saw the world and my place in it.
That was 24 years ago, and while I never became a famous sportswriter or novelist, I learned so much about myself and my abilities in that seventh grade classroom.
Granted, I went on to earn an engineering degree, but my interest in writing and journalism led me to work at the student newspaper at Georgia Tech and then at CNN for the past 13 years.
When I think about how those experiences have shaped my life in so many amazing ways, it's easy to think about Mrs. Rainwater.
Do you know an inspirational teacher? Schools of Thought wants to hear your story. Email us at SchoolsofThought@cnn.com or send us an iReport! You may see your story on Schools of Thought!