Editor's note: Lydia McAllister is a graduating senior at Joplin High School in Joplin, Missouri. She writes for the school newspaper, The Spyglass, plays soccer, is an officer with the National Honor Society and was a member of the school's state champion Constitution Team. In the fall, she plans to attend the University of Missouri to study journalism.
Last year, Lydia wrote about returning to classes at a temporary high school after a May 22, 2011, tornado destroyed parts of Joplin, including the old high school.
By Lydia McAllister, Special to CNN
(CNN) - It's so easy to fall into the trap of "What if…?" What if the tornado hadn't torn my house to mere sticks? What if my dad's business was still standing? What if my school still had walls?
One year after an F5 tornado blew through town, we're rebuilding, and we've made it through a school year. On Monday, I'm graduating.
The year at our high school in the mall had its ups and downs. I missed having the ninth- and 10th-grade students around, and I know they wish the upperclassmen were with them, but we had to work with what we got - and what we got is an absolute miracle. It isn't some foreign building; it has really become a high school.
Although laptops make life easier, the change to a "paper-less" school has been hard on the teachers, and I sometimes felt like I wasn't learning what I could if I didn't have Twitter open in the next tab. This year taught me lessons that will help me in college: Your education is what you make it. You can choose whether to get a lot or a little from your classes.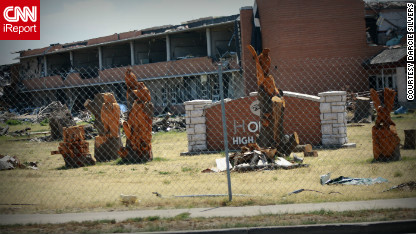 Joplin High School will be rebuilt and will open in a few years.
Impact Your World: Rebuilding Joplin
I feel beyond blessed to have President Barack Obama speaking at our ceremony. How many high school students can say that the president spoke at their graduation? I know there are mixed opinions about politics, but this is a great honor. I might not vote for him in the upcoming election, but I can still appreciate how important this is for Joplin.
I can't help but smile when I drive down Range Line Road on the route to school. It's been amazing to watch businesses spring up right and left. Now we have Home Depot, Academy Sports and Outdoors, Wal-Mart, Wendy's, Sonic. My town finally looks like what it should, not like a war zone, but like the place I grew up.
There's still a lot of work to do. My family is still in the rebuilding process. I can't believe how many decisions go into building just one room.
What to stain the trim? What light fixtures to put in the bathroom? My mom seems overwhelmed by the building process, but I know she's happy to see her dream home become a reality after the home where we'd lived my entire life was destroyed.
My dad and his partner will break ground on a new dental office on May 23. I'll never forget how my dad has been our rock, patient and flexible while getting our lives back on track. I can't even put into words how much I admire him and how proud I am to have him as my dad. Any time I would wake up from a "tornado-mare," as I like to call them, I think about the moments right after the storm hit, when we walked to the basement stairs only to see the mangled gray sky instead of our house. My dad pulled us all in and promised us we'd be OK - that he would make sure we'd be OK - and instantly, my fear dissipates.
We are OK, just like he said.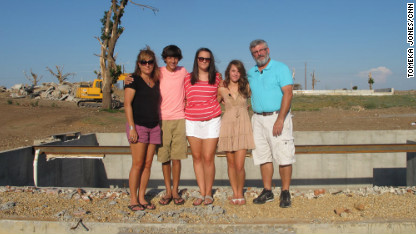 The McAllisters' home was flattened by the tornado.
The tornado was something none of us had any control over. It was one of those things that you can let define you or you can let it help shape you.
For me, it's the latter. I'm a stronger person as a result of what I've been through in the past year. They say you don't know how strong you can be until you have no choice, and I can vouch for that.
My strength comes from the people I've met since that day - the neighbors who came to help pick up our lives days after the storm, the volunteers who handed out water bottles and hot dogs, the women who painted bricks with the image of Joplin High School for every senior. Their strength kept me going, and for that, I will be forever grateful.
The tornado really taught me how to appreciate what matters. All the things accumulated in a lifetime can be strewn across counties in a matter of seconds, but what matters in life are the loved ones that walked out of that basement with me and being strong, even when you have nothing but the clothes on your back.
I like the idea of graduating right before the one-year anniversary of the tornado. It will be the end of something one day and a chance for closure the next.
On May 22, I expect the feeling to be relief - relief that I survived and so did my family; relief that my town doesn't look like a bomb was dropped on it; relief that trees are growing again; relief that if all goes according to plan, my little brother will be part of the first class to graduate from the new Joplin High School.
But most of all, I will feel relief at the fact that even when my world seemed to end, that pain didn't last forever, to know that this, too, shall pass.
The opinions expressed are solely those of Lydia McAllister.