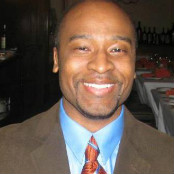 By John S. Wilson, Special to CNN
Editor's note: John S. Wilson is a contributing writer for The Loop 21, Mediaite and Black Enterprise. He frequently writes about health and education policies and politics. You may reach him on Twitter: @johnwilson.
(CNN) - Last month, a few high school students sent out racist tweets about Washington Capitals player Joel Ward after he scored a winning goal against the Boston Bruins in overtime. Responding later in an interview, Ward, who is black, said, "People are going to say what they want to say," and he shrugged off those comments. But the students' high schools sure didn't.
Almost immediately after reports of the tweets, the schools began looking into ways of punishing the students for their actions outside the classroom. The schools absolutely should express their discontent with the offensive tweets. But should they punish the students? Do they even have the ability to do so? Not likely.
One official, Jonathan Pope of the Gloucester School Committee in Massachusetts, admitted as much in an interview with MSBNC.com: "We don't know whether we actually have any legal standing to implement any kinds of penalties for that kind of behavior done outside school on a private communication system."
Pope and other school officials may want to look toward the Supreme Court on this point. The 1969 Tinker v. Des Moines ruling held that students' speech was subject to punishment if it "materially and substantially" affected an institution's educational mission. These few tweets couldn't possibly pass that bar and thus qualify for the schools' disciplinary action.

Yet Richard Safier, Gloucester superintendent of schools, did just that and handed down suspensions from extracurricular activities and sports programs, saying, "Such misconduct contradicts the values and standards of Gloucester High School and the Gloucester Public Schools as a whole," according to The Gloucester Daily Times.
Random racist tweets from a few students would no more blight that school district than a commuter flipping the bird in the midst of road rage would indict a community of drivers.
Words indeed do matter. But censorship matters even more. When public schools begin to punish children for what they say or don't say - absent doing so on school property or with the school's equipment or express sponsorship - we're no longer on a slippery slope, we've already fallen and may not be able to get up.
This has been played out numerous times in the media over the past few months. Words that have offended many have come from the mouths of Rush Limbaugh and Miami Marlins manager Ozzie Guillen as well as tweets from CNN contributor Roland Martin. Boycotts have ensued, and suspensions and apologies have flowed. The difference is not only that these men are adults, but as public figures they are accountable to their audiences and their employers. In those cases freedom of speech didn't apply because government censorship or punishment was never involved. They were private actors suffering the consequences of the free market - subject to their employers and the whims of their audiences. But this is different. Public schools have boundaries and must stay within them.
Students who don't break laws or their schools' rules are accountable to their parents, not an audience or the state. The public shame of this incident should be enough. Not everything that's offensive is punishable.
And, worse, by taking this action the Gloucester school district is opening itself up to legal liability if students decide to sue and protect their free speech rights. It's ironic that the school may be the party in need of a teachable moment.
The opinion expressed in this commentary is solely that of John S. Wilson.