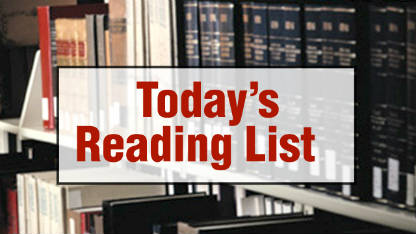 Here's what the editors of Schools of Thought are reading today:
Bennington Banner: Vermont drops waiver request for No Child
Vermont's Board of Education voted unanimously to stop pursuing a waiver from No Child Left Behind provisions. The U.S. Department of Education said that Vermont's proposed accountability system lacked detail and wouldn't ensure student success, while Vermont says it was trying to create a system that relied less on standardized testing and negative consequences against educators and schools.
Miami Herald: Students at Miami Dade College's InterAmerican campus received funds to help undocumented high school students go to college.
Students from a Miami college won $5,000 to start a social media and community project that will outline higher education options for immigrant students, including undocumented ones.
StLToday: Imagine schools mark graduations, closings
In what could be the largest charter school shutdown in the country, Missouri's Board of Education voted to close Imagine's six St. Louis schools. Many of the roughly 3,800 students, who finished the school year last week, don't know what school they will attend come August.
Cleveland.com: Public colleges in Ohio asked to go totally smoke-frees
A member of the Ohio Board of Regents says that he will introduce a measure asking the state's public colleges to ban smoking tobacco on their campuses. State law already prohibits smoking in public buildings.  Currently students can smoke on college greens and other outdoor locations.
Sun Sentinel: Mandated Holocaust education depends on donors to survive
Florida was the first state to mandate Holocaust education in its public schools. A film crew documented the 1994 law's inception and current implementation and found that state budget cuts are forcing some districts to look to outside sources of funding to train teachers on the curriculum.