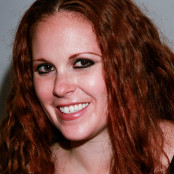 By Robyn Barberry, Special to CNN
Editor's note: Robyn Barberry teaches English at an alternative high school and a community college in Maryland. With her husband, she manages Legends of the Fog, a haunted attraction with more than 200 teen volunteers. She has an Master of Fine Arts in creative nonfiction from Goucher College and blogs about motherhood for The Catholic Review.
(CNN) - Rather than spending their eighth-grade year at Athena Middle School, the three students who verbally savaged bus monitor Karen Klein have been suspended to the Greece, New York, school district's reengagement center and will complete mandatory community service. Though their punishment exceeded Klein's desire for the boys to lose their bus and extracurricular activity privileges, most people are satisfied with this story's ending.
For people like me, this is where the story begins.
No matter how many poor choices teenagers make, only one - the decision to drop out - can prevent them from earning a high school diploma. Expelled students may lose the right to attend their home schools, but they are still legally entitled to an education. For this reason, public school systems have alternative programs, like the one in New York that the bus bullies will attend and the one in Maryland where I teach high school English.
Alternative education is widely misunderstood. It's not prison. It's not "let's-talk-about-our-feelings" camp. It's not a delinquent storage facility. It's a second chance at learning, where the district curriculum is upheld, rules are enforced and rehabilitation can occur.
The alternative school atmosphere is not as tumultuous as one might think. It's more like the day after a major storm has occurred. The tension has not fully evaporated. Shards of debris are all over the place. Loss is catastrophic. There is a genuine state of emergency, but the real danger has passed. It's time to rebuild.
Every child who walks into my classroom bears an adult-sized burden, be it self-inflicted or superimposed. Unlike most teens, they aren't worried about who they'll hang out with after school, or if they'll make the soccer team, who to date or what to wear to prom. Parole officers, anger management, court dates and electronic monitoring ankle bracelets are at the forefront of their minds. But, like everyone else their age, my kids want people to like them, despite their despicable pasts.
Some students are preceded by their stories, as will be the boys from Athena Middle School. The kids with high-profile cases have it the worst, because just like everyone else who's heard their story in the news or neighborhood gossip, their teachers and classmates have preformed opinions of them.
I'd prefer not to know why students have been sent to my school unless they wish to discuss it with me. Their classmates will ask anyway. They always do. For a few, sharing begets bragging rights. Only second-degree assault?  I've got three counts of first. For most, it's the type of bonding experience that heals. Oh, you messed up, too. It's not just me.
"We're bad kids," they tell me. Society has sent them that message, and it became a self-fulfilling prophecy. I explain that they're not bad kids. They're kids who made bad decisions in the past. They can choose to make good decisions from now on.
Educators: Kids aren't the only ones bullied
As an English teacher, I know appreciating literature takes empathy, something foreign for most of my students, as it was for the Athena boys who didn't recognize Klein's tears as a sign to stop taunting. Though literary classics are no easy sell, their universal themes apply even in an alternative school.
In "To Kill a Mockingbird," Atticus tells Scout, "You never really understand a person until you consider things from his point of view ... until you climb into his skin and walk around in it." My most difficult student, a girl who slept most of the time, heard us discussing that quote, picked up her head, smiled and said, "That makes so much sense."
Even two 10th-grade boys who'd recently finished prison sentences couldn't stop making connections between themselves and Elie Wiesel in "Night." I had to correct them on multiple occasions, reminding them that they deserved to go to jail for armed robbery and assault with a deadly weapon, and that they were never tortured, abused or denied basic human needs. Still, sympathy is the first step toward empathy. By the end of the book, our discussions had shifted to the fact that no one in the concentration camps deserved to be treated as they were and that we can never allow anything so heinous to happen again.
The fact that children's brains are not fully developed offers an explanation and solution - though not an excuse - for the tragedy that happened on the bus that afternoon. Kids can be cruel, but fortunately, most become more respectful with age, time and experience. It's not too late for these boys to learn kindness. Their time at the reengagement center should be used as a period of reflection and growth. They should take advantage of opportunities to discuss or write about the pain they caused Klein, what they would have changed if they could and what they will do from now on. The key to making the most of an alternative learning experience is to seek out positive role models and avoid negative teachers and peers. Find the people who seem genuinely happy and follow their lead. The boys will most likely begin their freshman year in a regular high school as changed men.
What happened to Karen Klein was tragic in every way, and the boys' sentence was just. Though it was kind for people to open their pocketbooks and donate to a much-deserved retirement fund and vacation for Klein, money won't erase the pain she will forever feel, nor will money fix the real problem. It can help prevent it - funding is desperately needed for programs like mine, which can and do change villains to victors. Empathy education is needed now more than ever. It starts with us. Every child, no matter what they've done, needs to know that at least one person has a vested interest in their future, someone who cares for them unconditionally. Perhaps someone like you.
The opinions expressed are solely those of Robyn Barberry.