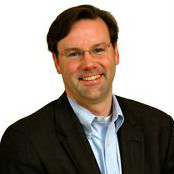 By Tim Magner, Special to CNN
Editor's note: Tim Magner is the executive director of the Partnership for 21st Century Skills (P21), a national organization that advocates for 21st-century readiness for every student. He has had an extensive career in education, serving most recently as the vice president of Keystone for KC Distance Learning (KCDL) as well as the director of the Office of Educational Technology for the U.S. Department of Education.
(CNN) – Whether it's technology, the global economy or the changing nature of work itself, we are tasked with preparing our children for success in college, career and citizenship in a world that looks very different from the one we grew up in.  I've had the privilege of collaborating with P21's members, partners and leadership states to help educators embed key 21st-century skills – like the four Cs of communication, collaboration, creativity and critical thinking – into the educational experiences of all children.
Our children need these 21st-century skills not simply because employers are looking for them (they are), or because they are essential for success in college (they are), or because other nations are also recognizing this skills gap (they are), but because we want our children to not just survive in this new millennium, but to truly thrive. 
21st-century readiness – having the knowledge and skills to pursue further education, compete in the global economy and contribute to society – demands much more of all of our students, and our education system must change to meet these demands. Recognizing this fundamental shift, the ongoing Common Core State Standards initiatives are embedding these skills into the new standards frameworks.
This is what makes the recently released Next Generation Science Standards from the National Research Council particularly exciting, because they recognize these important shifts and make wise suggestions to integrate deep-content knowledge with the skills to apply that knowledge. 
The science standards explore a range of active approaches to learning, from asking questions and defining problems to using models, carrying out investigations, analyzing and interpreting data, designing solutions and using evidence.  These practices are not only essential science skills, but also form the core elements of the critical thinking and problem solving skills of P21's Framework for 21st Century Learning.
The standards also highlight the importance of communicating information as a scientific practice, and they recognize the importance of teamwork and collaboration by including collaboration and collaborative inquiry and investigation, beginning in kindergarten.
Where I wish the standards were stronger is in creativity and innovation.  Much of our economic success over the past century has been because of breakthroughs in science and technology. I hope that as these standards are implemented, science educators will work hard to infuse them with opportunities for students to see science as a creative endeavor. Science class could become a chance to invent the next generation of medicines, electronics or the myriad other innovations we will need to feed, clothe, power and empower our planet. 
Ideally, these standards will help redefine the science classroom and science experience for the 21st century. I'd like to see science classrooms look more like the spaces created by the Community Science Workshop Network. In these models, students are free to explore and experiment with a wide range of materials – discovering not just science facts, but science joy. If our children are excited by science, rather than frightened by it, our ability to encourage more of them to pursue careers in science, technology, engineering and mathematics – the so-called STEM fields – would be immeasurably enhanced.
The new Next Generation Science Standards can and should be implemented with an emphasis on creativity. Combined with the "flipped classroom" model – where technology delivers information at home so face-to-face time in school can be focused on actual creating, making and doing – science educators have the opportunity to transform the spaces where science happens and redefine the school-based science experience.  Classroom discussions, hands-on experimentation and collaborative explorations can become the norm for all children.
And it comes not a moment too soon.  We are facing increasingly complex problems in the world around us – from pressures on our food and water, to environmental challenges, to ever more complex engineering problems, to the basic health needs of growing populations.  In these very real challenges, there are plenty of opportunities for creative scientific exploration that connects the classroom to the outside world.
The 21st-century classroom should be a place where students get to start exploring their world, discovering their passion, applying what they know and beginning to experience the impact they can have.  I'm optimistic that in the hands of talented science educators, conceptual shifts like those in the science standards will make these aspirations a reality for many more of our nation's students.
The opinions expressed in this commentary are solely those of Tim Magner.