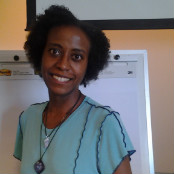 By Trina R. Shanks, Special to CNN
Editor's note: Trina R. Shanks is an associate professor of social work at the University of Michigan and a Rhodes Scholar. She was appointed to serve as a member of Michigan's Commission on Community Action and Economic Opportunity from 2010 to 2012. This essay was written in association with The Op-ed Project.
(CNN) - I am the granddaughter of an elementary school cook and a woman who cleaned other people's homes. Both my grandmothers worked hard and didn't earn much money, but they encouraged their children to get an education.
Although starting from limited economic circumstances, my parents both earned a college education and were able to attain a middle-class lifestyle to raise me and my siblings. I, their daughter, went on to receive a Ph.D. Unfortunately, this type of upward mobility is much less likely for the children of maids and school cooks today.
A decent job and a decent life should be a possibility for anyone who makes an effort. As a nation, this was more likely in our past than in the present. A college education should be affordable to anyone who is willing to do the work, but that is no longer our reality. As the likelihood of a college degree and economic security becomes less attainable for a significant portion of the population, the future of the United States will be in jeopardy.
Late last month, Congress passed a bill that will keep student-loan interest rates from doubling, just days before the deadline. It's an important step in keeping college affordable, but student-loan interest rates are only one piece in a complex puzzle that shapes how income level and educational opportunity are linked - and the effects begin years before a student might apply for loans.