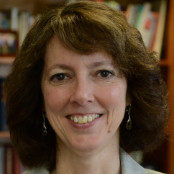 By Janet Morgan Riggs, Special to CNN
Editor's note: Janet Morgan Riggs is president of Gettysburg College, alumna from the class of 1977 and professor of psychology.
Congress has been trapped in gridlock for much of President Obama's term. Politics seem to consistently trump bipartisan civil discourse.
I'd like to offer Congress an example that might inspire them to move beyond politics.
My institution, this past semester, confronted an emotionally charged controversy with respect and civility. We forged a solution, and we shook hands across the aisle. We even shed a few tears of pride - because it was students who led the way.
Decades ago, the Army withdrew Reserve Officer Training Corps instruction from Gettysburg College as part of a consolidation of military programs. Students who wished to enroll in ROTC remained able to do so at another college about 45 minutes away.
However, the military's rejection of gays and lesbians and subsequent don't ask, don't tell policy ran counter to the college's values: We welcome all, regardless of sexual orientation or gender expression. Accordingly, our faculty ruled that academic credit would not be given for ROTC — despite its rigor and many benefits to our nation — because the program discriminated against some members of our community.
This decision was principled and symbolized our community's support for gay and lesbian individuals. But what about our ROTC cadets? How could we not recognize their hard work and dedication? This was our conundrum and one that raised its head frequently.

When don't ask, don't tell was finally repealed, our faculty began to re-examine ROTC but found that the military continues to bar transgendered and transsexual individuals. As a result, a majority of our faculty voted against reinstating credit for ROTC, and our dilemma remained.
The debate resurfaced when we learned that all students are permitted to take ROTC courses, even though the military will not accept all of those students into service. A turning point came when a faculty member challenged our ROTC student cadets and the student members of our ALLies organization (which supports gay, lesbian, transgendered and transsexual individuals) to construct an agreement that would embody our welcoming values, respecting and accommodating all viewpoints.
Our student ROTC cadets and members of ALLies took that charge to heart, came together in community and jointly crafted a proposal far beyond any previously considered by our faculty: rescind the ban on academic credit for military science courses, proclaim that such action in no way endorses the military's discriminatory policies, and provide all students with formalized opportunities to debate military policies that bar transgendered and transsexual people from serving openly.
At long last, it was students who found a solution. They balanced commitment to military service with commitment to equal rights. They demonstrated that community can accommodate civil debate and, indeed, be strengthened by it. They discerned that the gap between their perspectives was not as wide as it first seemed. The faculty resoundingly approved their motion.  And that's when some tears of pride were shed.
I cannot help but think that the students who led this discussion, whether they enter the military or pursue other careers, will have a positive impact on our nation. They have learned what a liberal arts community teaches best: civility, creative problem-solving and leadership.
I wish I could elect those students to Congress today. They would show those in Washington that thoughtful decision-making often requires compromise and that the very essence of democracy rests on our ability to engage in civil discourse.
The opinions expressed in this commentary are solely those of Janet Morgan Riggs.