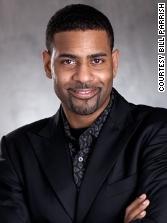 By Rev. Dr. Otis Moss III, Special to CNN
Editor's note: The Rev. Dr. Otis Moss III is the senior pastor of Trinity United Church of Christ on the Southside of Chicago.
Dr. Martin Luther King, Jr. once said that we are caught in an inescapable network of mutuality, tied in a single garment of destiny. Our current education policies are binding some of our children into a future in which their social fabric is tattered and sometimes broken.
Our nation has not truly committed to eliminating structural economic inequality since President Johnson's war on poverty. With over 46 million Americans living in poverty, and nearly 50 million who are food insecure, and close to 25 million Americans looking for a job while we face record-breaking rates of foreclosure, we must provide a common foundation beneath which no child falls.
We can do this by giving all children fair and equal opportunities to learn. Yet, by failing to authorize a new federal education framework, Congress has left the states with two choices: to continue the failed policies of No Child Left Behind or apply for a waiver and be subjected to unrealistic requirements and reforms that aren't much different.
As the parent of two children in public school I am saddened by the tone of the debate about the future of education and the lack of imagination in popular reform proposals that seem to be directed largely at privatizing our school systems. Many of the men and women shaping policy can afford private schools, tutors and have access to other well-funded supplemental programs, but it is our children in struggling communities who are becoming casualties of these education battles.

Research has shown that there are more effective strategies being used in Chicago than the focus on "Turnaround Schools," which has become a national priority strategy. The University of Chicago identifies five key ingredients for school improvement that include school leadership, parent and community ties, the professional capacity of the faculty, a student-centered learning climate, and instructional guidance. Schools that were strong in all five areas were at least 10 times more likely to achieve substantial gains, but when one of these threads was missing or weak, it undermined virtually all attempts to improve student learning.
Schools that have implemented these key elements have far out-performed Chicago's schools that have been "turned around" through firing staff, closing schools or hiring outside-expert school managers. Yet, they are forced to rely heavily on the volunteer efforts of parents and the community and have rarely received extra financial support, much less public attention or recognition. Imagine what could be achieved if school financing was equitably distributed, with increased investments going to schools where students live in poverty.
As outlined in the National Opportunity to Learn Campaign's "2020 Vision Roadmap: A Pre-K Through Postsecondary Blueprint for Educational Success", all teachers should have intense training before they enter the classroom, and mentoring and support throughout their careers. We need new ways of assessing performance and measuring achievement that are fair to both teachers and students. And, we must attract and retain the best teachers in the schools of highest need by ensuring positive, supportive working conditions.
Education is the most vital resource in our communities. When students fail, future economic prospects are diminished and our communities ultimately suffer. Punishing schools that receive insufficient resources and focusing on privatization only further alienates struggling communities. We cannot tolerate failure, but we must stop placing blame solely on teachers. Accountability also rests with policymakers, the clergy, media conglomerates, businesses, civic groups, parents, and community activists. It rests with all of us.
Just as we are bound together in this inescapable network, so are the factors that determine our success or failure. They are woven together in a complex tapestry that traps too many of our young people in generational poverty that we have ignored for too long. Fixing our schools is critical in breaking the bonds of poverty. It's time for our policies, practices and investments to support an aggressive and comprehensive approach to education reform that gives every child the opportunity to learn.
The opinions expressed in this commentary are solely those of Otis Moss III.